Cardio For Very Busy People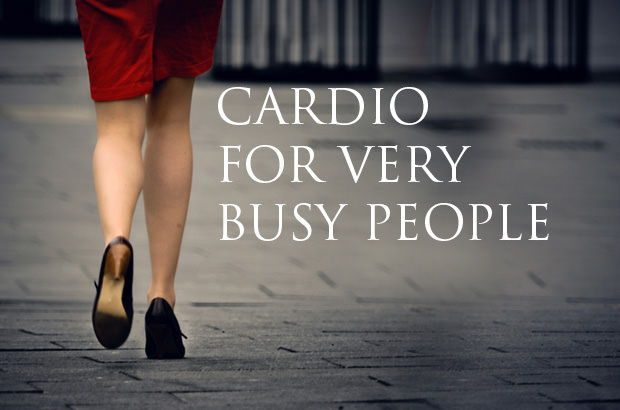 Exercise is a key contributor to health and happiness. But with our hectic lifestyles, many of us have trouble staying active, and exercise always tends to fall by the wayside. To save time and improve fitness, here are 13 simple ways to incorporate cardio into your daily life.
At Work
| | |
| --- | --- |
| | 1. Walking Meetings. Rather than be cooped up in a stuffy meeting room, have a meeting on the go. Thresh out ideas as you walk from one end of the building to another, or take a stroll to a nearby park or to lunch. Mobile meetings not only improve health but boost creativity as well. |
| | 2. A Case For Stairs.Taking the stairs sometimes saves more time than using the elevator; you needn't wait for it to arrive and you don't have to stop at different levels for people to get on and off. Best of all, you get a workout from it. For maximum results, take one step at a time instead of two. In one study, participants who climbed a 15-meter stairway five times a day, burned 302 calories burned per week using one step, versus those who used a double step who burned 266 calories per week. |
| | 3. Drink (Water) More Often. More hydration translates into more trips to the bathroom, which means more exercise. Even better, pick a bathroom on a different floor. Treat it as an opportunity to network with people in different departments at your company. |
| | 4. Be Mobile On Your Mobile Phone. Treat your ring tone as a trigger to get you out of your chair for a walkabout. The increased movement and blood flow is not only good for your health, but allows you to come across more animated over the phone. |
Choring
| | |
| --- | --- |
| | 5. Don't Outsource Chores. Dont hire cleaners to tidy up after you. Vacuuming burns over 100 calories an hour, and is a great way to find things you've been looking for. And wash your own car instead of taking it to the car wash. It may also help your karate. |
| | 6. Be A Shady Character. While running errands, rather than park in the closest spot, park in the shaddiest. Not only will it require more steps, it helps keep your car cool, minimizing A/C usage, which is good for both the environment and your wallet. |
| | 7. Shop At The Farmers Market. Rather than shop at your local convenience store, take a trip to the farmers market. You will be supporting the local economy, obtaining produce at their freshest and have the opportunity to receive cooking tips from the farmers that have been passed down over generations. Because there are no grocery aisles for a shopping cart, you will have the privillege to physically carry your finds with you. |
On The Go
| | |
| --- | --- |
| | 8. Be Active While In Transit. Don't just sit at the airport staring into your laptop or phone. Explore the airport, and stay off the walkalators (unless you opt to walk in the opposite direction) |
| | 9. Don't Car Around. When you need to get some place, always make cycling, walking or running your first option. It is great for physical conditioning, stress relief and the environment. You will also find that you will plan your time better. When going somewhere takes a little more physical effort, you usually make sure you make the trip count. |
.
Weekend Fun
| | |
| --- | --- |
| | 10. Go On A Sports-Date. Instead of the usual dinner and a movie, go on dates with a sporting element. Go to the driving range, play a game of tennis, try a new sport you both have never before played. It's a great way to stay fit, expand your horizons and keep the relationship fresh. |
| | 11. De-stress Outdoors. Rather than spend your weekend on the couch watching sports, get your entertainment from the natural world. Ski or ice fish in the winter, bike and canoe in the summer, hike and camp in the temperate months. Whatever you do, get out there, away from the city. |
The Takeaway
Although most of us know how important it is to lead a healthy lifestyle, we often struggle to find time for it. However, with a little creativity and some minor life adjustments, it is very doable. Rather than go to the gym, why not bring the gym to you. And instead of filling your time with mind-numbing, sedentary pastimes, why not fill it with activites that help you improve on a physical, mental and spiritual level. The choice is yours.
Photo Credits
Some Other Things You May Like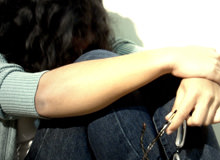 The Healthiest Ways To Deal With Stress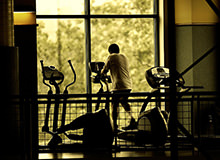 Why Going To The Gym Can Be Unhealthy For You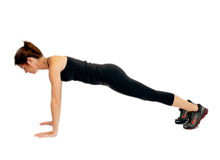 The Best Free Workout Videos on YouTube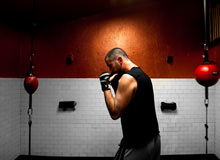 Nail Every Fitness Goal You Set