A Year Without Television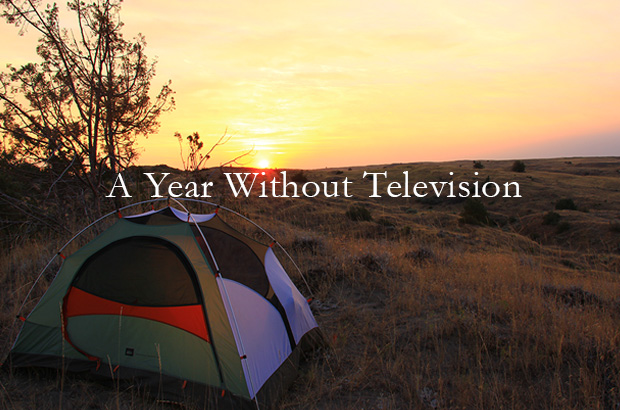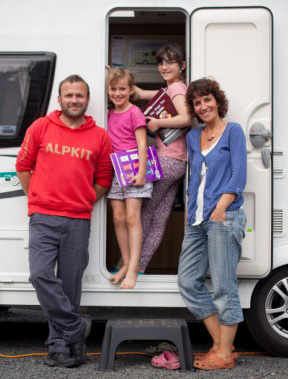 Children these days spend too much time on iPads, on the TV and playing video games. And it's becoming a real problem. But if they weren't on these devices, how would you fill their time in ways that are both interesting and beneficial to them?
Tim and Kerry Meek came up with this really neat idea for their 8 and 10 year old daughters; they gave them a list of 100 outdoor challenges to complete within a year. Although Amy and Ella still watched a small amount of TV on the weekends, most of their time was filled trying to tackle the tasks they were given. These are the challenges they completed. Maybe you could do the same with your children.
1. Make a rope swing
A more natural alternative to the multicolored man-made playgrounds in the city. This adventure tries to put some of the 'natural' back into the outdoor play experience, and in doing so, makes for a much more thrilling experience!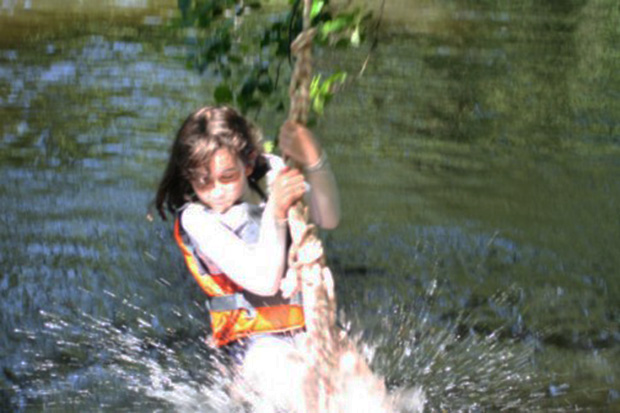 2. Eat Nettle Soup
The girls embarked on a mini adventure to pick nettles, and then eat them. There is lots of fulfillment harvesting a healthy meal fresh from Mother Nature's pantry instead of paying for it at the store.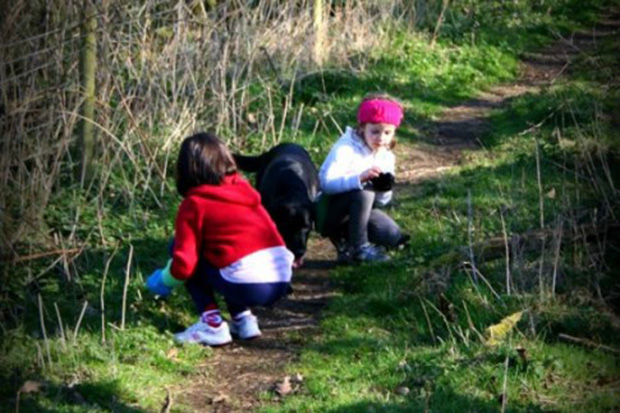 3. Build a Bridge
The girls had to locate a small stream and use naturally fallen wood to build a bridge across the span of water. And then they had to use it, without getting wet!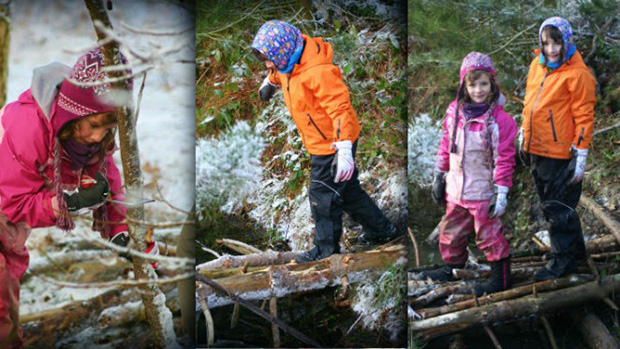 4. Off-peak Camping
Off peak camping can be categorized as one of the following:
1. Camping on a school night and going straight to school the next morning.
2. Camping where there isn't an official campsite.
3. Camping when it gets a bit wintery, even if it's in your own garden.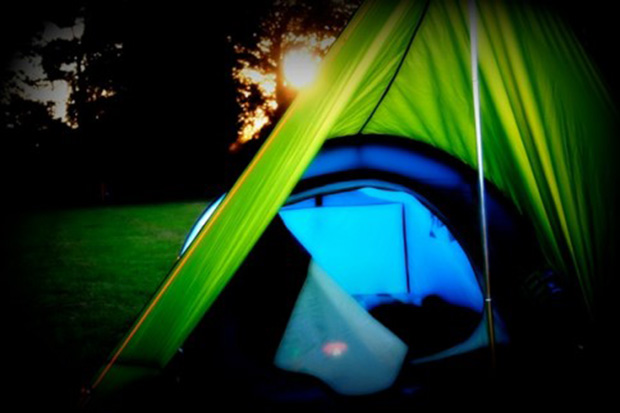 5. Wild River Swim
The girls swam down a river to enjoy the natural surroundings and its contours.
6. Go Coasteering
Coasteering is an increasingly popular adventure sport that combines scrambling, climbing and swimming along a rocky coastline along with the optional and adrenaline-filled jumps from varying heights.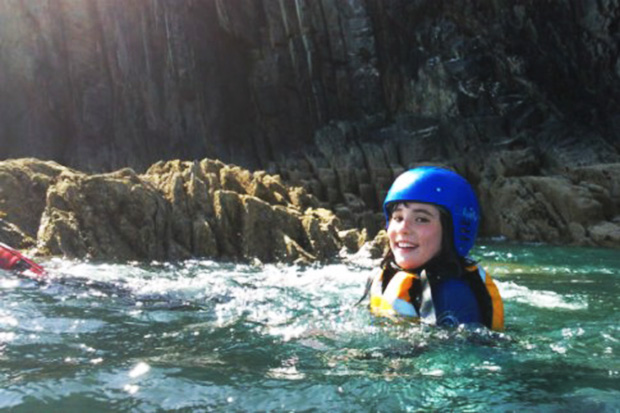 7. Go on a Forest Night Walk
The dark brings with it its own sense of mystery and excitement.For young children, venturing out into the dark is exhilarating and a little nerve-wracking at the same time. Exciting because they can carry and use a torch purposefully, nervy tingling because the darkness makes things feel, look and sound different.
8. Go Behind a Waterfall
Walking to a waterfall to watch, listen to and feel its power and awe is enough of a thrilling experience itself – for both adults and children alike.So imagine the feeling and thrill of walking behind a waterfall! The girls didn't just try and imagine the feeling, they got out and did it!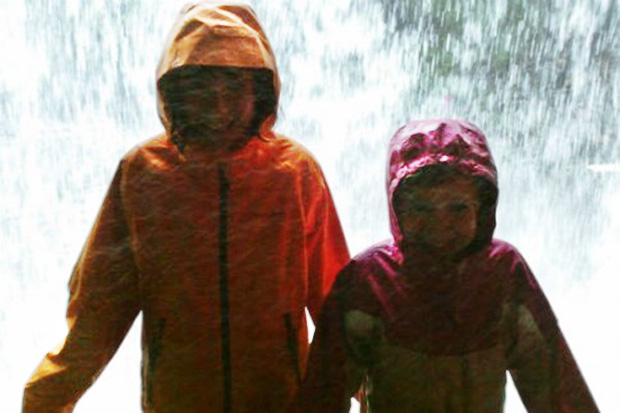 9. Sub-zero Camping
Equipped with a cheap pop-up tent, sleeping bags, roll mats, thermals, fleece and hats, the girl survive a night in sub-zero temperatures.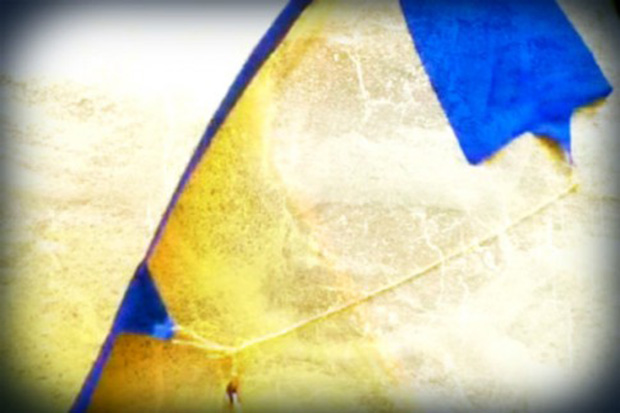 10. Night Time Descent
Familiar places take on new forms when experienced in the dark -the absence of light plays tricks on the eyes and the mind, flattening space and transforming static features into things that seem to come to life.This applies, perhaps even more so, to a hill, mountain or any other wild, outdoor environment, and is the essence of this simple but exciting family adventure.
Climb a hill/mountain at dusk, watch the sunset and then descend in darkness.Take a stove and cook some food, or just take a flask of soup, and enjoy an evening meal under the stars before you head back downto your car.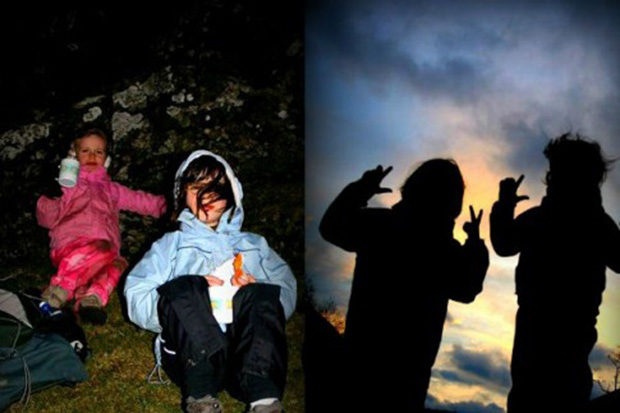 11. Try Slacklining
Tie a sturdy piece of nylon between two trees and try walking across.The main skill involved is balance; just standing on the line and maintaining control of your balance is tricky in itself. Walking along the line is harder still. Balance and stability exercises like slacklining are great for strengthening the body's core muscles, as well as the fine motor muscles around the knee and ankle joints.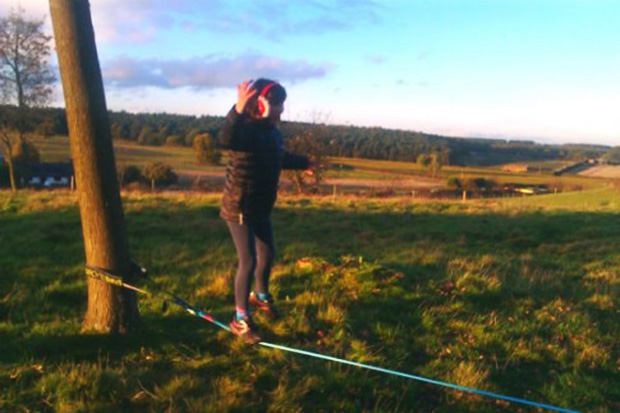 12. Sleep on a Beach
Sleep under the stars, start a campfire on the beach and enjoy the wildlife.Be lulled to sleep by the sounds of crashing waves and woken by an alarm of seabirds.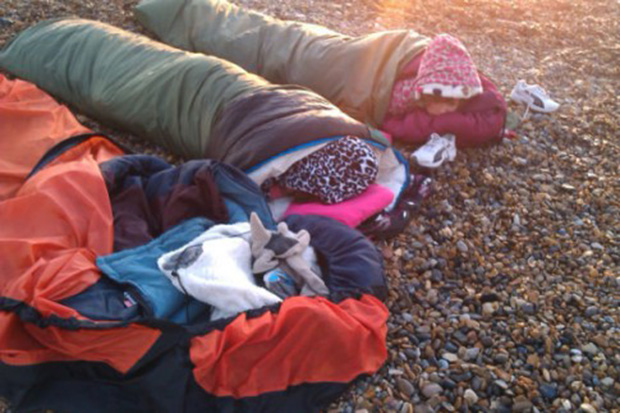 13. Go On A Scooter Safari
Borrow a few extra scooters from friends or familly and head off on a safari of the local surroundings altogether. It is good Exercise and you see things from a different perspective.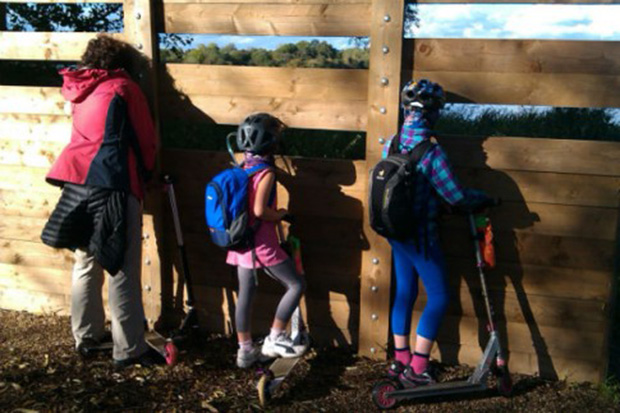 14. Walk down a river
The gilrs followed a river until they got away from the crowds and picknickers, spotting wild life along the way, and figuring ways to make their crossing.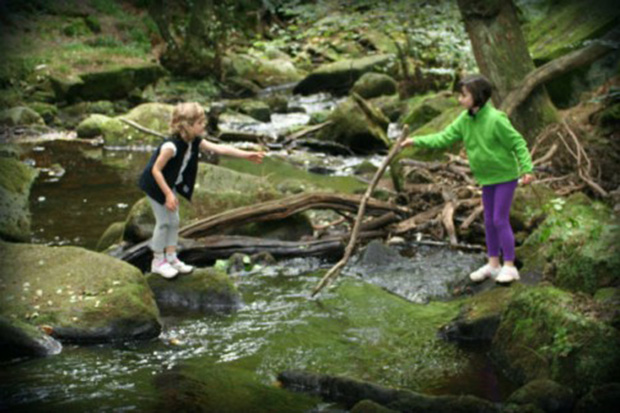 The Remaining Items On The List
15. Find a private beach
16. Climb the Eiffel Tower
17. Kayak Safari
18. Camp in a city
19. Swim in a natural pool
20. Sleep in a cahutte
21. Caving
22. Orienteering race
23. Outdoor birthday party
24. Walk on high ropes
25. Canoe down a river
26. Sleep in a Bivvy-Bag
27. See a henge from sunset to sunrise
28. Sleep in a family-size sleeping bag
29. Kayaking
30. Community work
31. Climb and abseil
32. Sailing
33. Walk a peninsula
34. See a puffin
35. Watch wild seals
36. Play conkers
37. Go off-road hiking
38. Sleep in a shelter
39. Climb an epic summit
40. Camper-vanning
41. Cook and eat in the wild
42. Wake and run
43. Bivvy by a river
44. Tag team cycle trail
45. Learn a constellation
46. Whittle (carve) while you walk
47. Go for a reptile ramble
48. Snow walking
49. Floodlit swan feed
50. Discover local history
51. Find a summit
52. Go without electricity for 24 hours
53. Weaseling (climbing between gaps in rocks)
54. Spend the night in a hammock
55. Adventure led by the girls
56. Enter a race
57. Explore rock pools
58. Cook on a beach
59. Dam a stream
60. Explore a cave
61. Explore a wreck
62. Find a waterfall
63. Take on the elements
64. Body-boarding
65. Sleep in a wood
66. Mountain biking
67. Going to the toilet outside
69. Coastal walk
70. Music festival
71. Visit a landmark
72. Walk to a tidal island
73. Sleep in an eco-tent
74. Spot red squirrels
75. Climb a 'matterhorn'
76. Watch rutting deer
77. Geocaching (GPRS treasure hunting)
78. Clean a beach
79. Scramble
80. Walk around a city
81. Orienteering
82. Night-time wood walk
83. Snow hiking
84. Cook with snow
85. Visit a suspension bridge
86. Three peaks in three day
87. Climb a winter summit
88. Ghyll scrambling (walking through gorges)
89. Make meal for mum on Mother's Day
90. Play in snowdrifts
91. Backpacking
92. Tracking and mapping
93. Visit London
94. Learn survival skills
95. Support a cause (Comic Relief)
96. Snorkelling
97. Crabbing
98. Skiing
99. Climb indoors
100.Tentsile (hammock-like tent)
Final Word
To achieve their 100 challenges, the Meeks spent just £500. But the gains were much more.
These early childhood experiences that have an element of excitement, mild suffering (cold, hunger), and adventure will result in your children having an appetite for the simple but exhilarating things in life, as well as helping them appreciate and be thankful for the hand they have been dealt – and to make the most of it!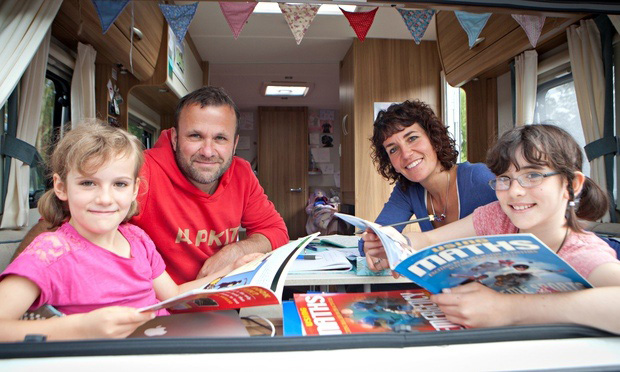 Photo Credits
Some Other Things You May Like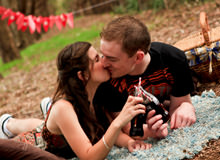 16 Secrets To A Happy Life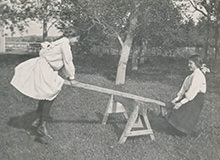 See Saw. You've been doing it all wrong.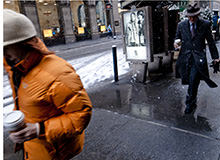 14 Tips For Starting Your Morning Off Right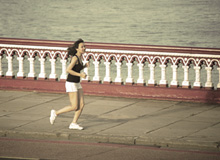 12 Running Tips For Beginners