12 Vegetarian Meals Under 400 Calories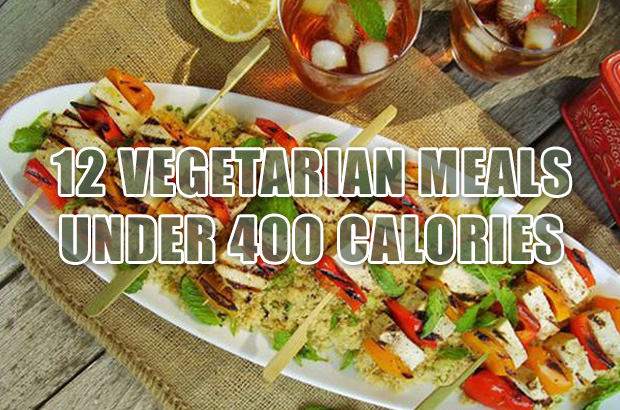 Don't get stuck in a meal rut! These 12 flavorful vegetarian dishes are all less than 400 calories, so they're ideal for weight management. And they can all be prepared vegan when you're eating 100-percent plant-based. (TIP: A plant-centered approach to eating can play a role in reducing risk for heart disease, cancer and much more). Some of these recipes are simple one-bowl meals; others you'll pair with a side salad, grain or fruit for nutritional completeness. You can also expand all the recipes by adding a leafy salad splashed with vinegar. Add these satisfying meals into your repertoire -- even if you're not a vegetarian!
1. Sticky Chia Fried Rice
Chinese fried rice is often served as a greasy side dish. But here it's transformed into a flavorful main dish without the excess greasiness. It's full of good carbs for energy. But there's also significant protein here via the tofu, brown rice and chia seeds. What's more, the chia seeds provide a burst of fiber and omega-3s. The seeds are used in this fried rice entree instead of eggs to keep it vegan. To round out the meal, enjoy with a salad made simply from baby arugula and oranges -- the juice from the oranges act as a natural dressing!
CALORIES: 387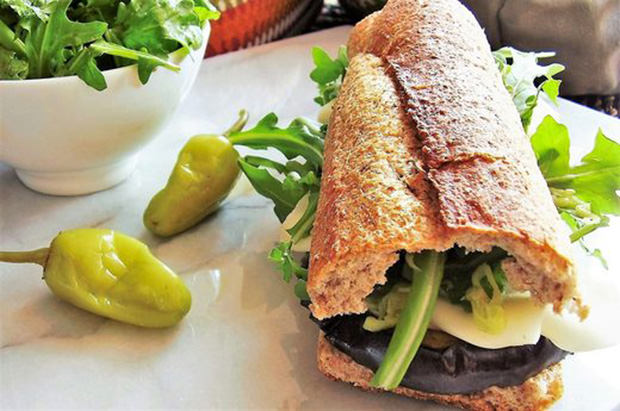 2. Six-Inch Skinny Italian Eggplant Submarine
This is much more than just a sandwich. First, you'll scoop out the doughy filling from a six-inch portion of whole-grain French baguette. This makes the sandwich appear large, but without excess carb calories. Then you'll quickly grill eggplant slices with a pinch of sea salt and smoked paprika to create a "meaty" filling in lieu of deli meat. Do this in advance so the sandwich takes just minutes to make. Mozzarella, fresh oregano, and pepperoncini (hot peppers) provide real Italian flair. Enjoy with a vegan cheese alternative, if you like. Serve with an arugula side salad for a lip-smacking lunch!
CALORIES: 160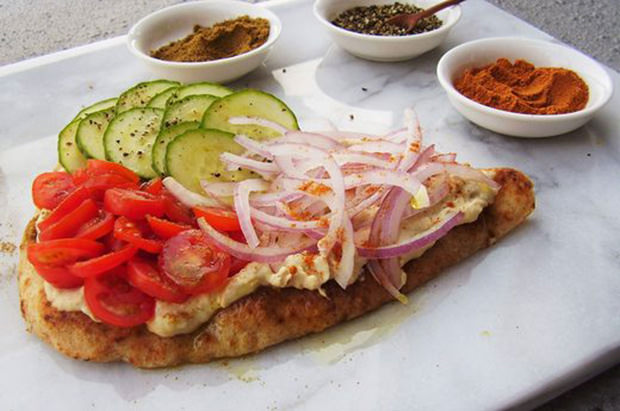 3. Spiced Hummus Flatbread "Pizza"
Looking for a post-workout meal that's fast and functional? Here you go! It's like a vegan pizza, but it doesn't require cooking. You'll simply smear some hummus onto whole-grain flatbread, such as naan, then top with fresh, colorful vegetables. This will help replace glycogen (stored carbohydrate) in your muscles and replenish electrolytes, including sodium and potassium. But there's more. You'll then drizzle with extra-virgin olive oil and sprinkle with spices for an antioxidant boost. Sip a glass of water with lemon to rehydrate. And don't just wait for a workout -- this meal is ideal anytime you need a quick fix.
CALORIES: 298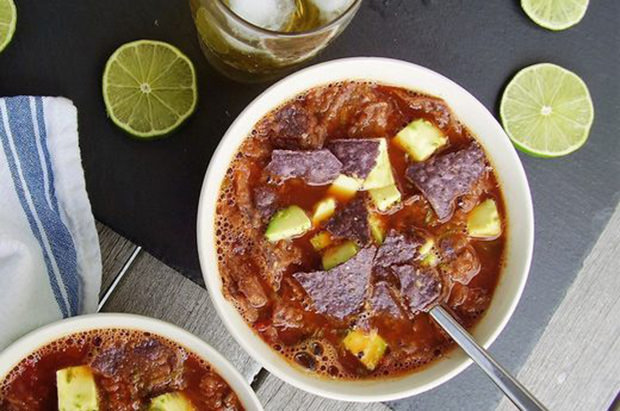 4. Vegan Mexican Tortilla Soup
There are some good prepared soups on the market, but they'll never be as good as something that's freshly homemade. Don't worry, it doesn't require hours on end or masterful skills. You'll use a simplified technique for this Mexican-style soup. All you'll do is dump everything into a pot, bring to a boil, then simmer for 10 minutes! It has many heart-health components, including fiber from beans and edamame and lycopene from tomatoes. It's extraordinarily flavorful and filling. In fact, it's an entire meal in a bowl. The finale of tortilla chips, avocado and lime zest takes it over the top!
CALORIES: 356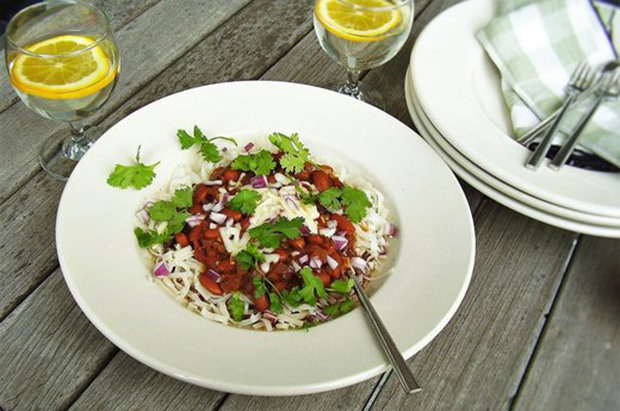 5. Cincinnati-Style Chili and Noodle Bowl
Cincinnati chili is one of the most unique chilis in America. It has distinct taste, thanks in part to cinnamon and chocolate. But the presentation makes it a standout. When the chili is served over spaghetti, it's called a "two-way." Here it's presented as a four-way, since it's also topped with onions and cheese. Use vegan cheese, if you prefer. What's more, this vegetarian recipe adds another element of surprise -- an Asian twist! You'll serve it over pad Thai-style brown-rice noodles for whole-grain, gluten-free goodness. Marry it all together with some fresh cilantro and enjoy.
CALORIES: 277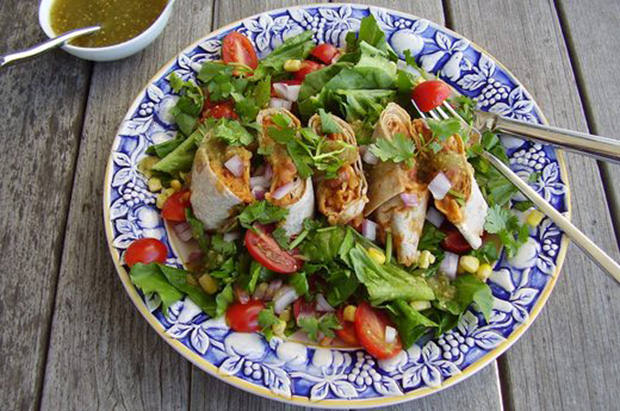 6. Tex-Mex Burrito Salad
It's OK to cheat a bit when it comes to a quick lunch. Consider going half homemade. Here's how: Prepare an organic frozen entree and pair it with fresh ingredients. More specifically for this recipe, prepare an organic frozen bean burrito, slice it and serve it on salad of romaine lettuce, grape tomatoes, organic corn and red onion. Dress it all with salsa verde and sprinkle with cilantro. It's full of fresh flavors, colors and textures -- and it's bursting with beta carotene, vitamin C and potassium. You'll love the contrast of the warm burrito with the cool salad.
CALORIES: 351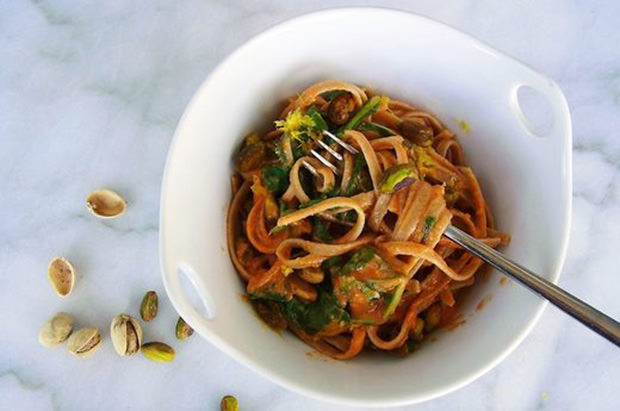 7. Creamy Tomato Fettuccine With Arugula and Pistachios
Sometimes all you want to do is open a jar of marinara sauce and toss with spaghetti. A no-brainer! But with just three easy upgrades and three extra minutes, you can have a memorable bowl of pasta that's still simple to prepare. Instead of marinara alone, puree it with goat cheese (or plain dairy-free cream cheese-style spread) to create a creamy sauce with way more flavor than an equally creamy Alfredo sauce. You'll toss this velvety sauce with whole-grain fettuccine and baby arugula and top with pistachios. That's it!
CALORIES: 384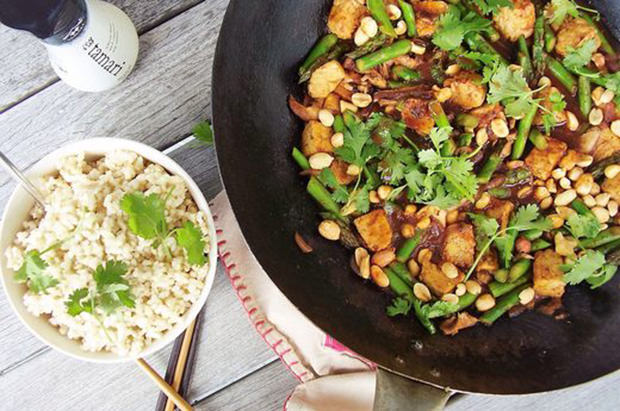 8. Asparagus, Shiitake and Tempeh Stir-Fry
Vegetarian stir-fries can be low in protein. Not this one, thanks to tempeh. If you're unfamiliar with it, tempeh is made from fermented soybeans and formed into a savory "cake" that looks oddly like a crisp-rice cereal bar. As strange as that sounds, it's uniquely wonderful in stir-fries. It provides a chewy texture similar to that of meat. And it really pumps up the quality protein. Here it's combined with a flavorful sauce (and plenty of it) as well as asparagus, shiitake mushrooms, red onion, peanuts and cilantro. Enjoy every saucy bite over brown rice.
CALORIES: 395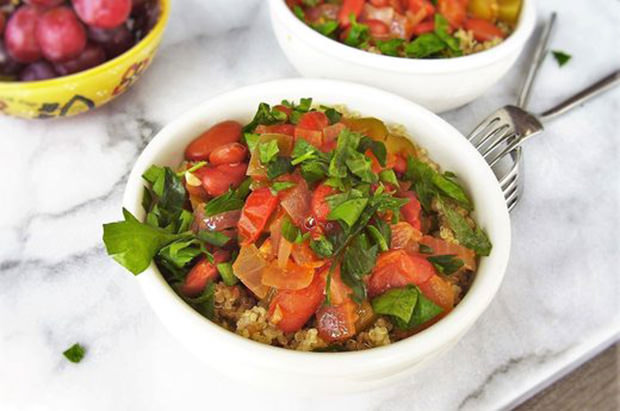 9. Vegan Cajun Red Beans and Quinoa
Authentic Cajun red beans and rice is one of the fullest-flavored dishes in America. Unfortunately, it's typically too rich to include in your regular meal repertoire due to andouille sausage. And it's often paired with white rice, which is devoid of whole-grain goodness. But you don't need sausage to get great taste in this new spin on the classic dish. Cajun seasoning is the key for providing the distinct flavor profile. Then you'll pair it with quinoa for double whammy of satisfying protein and fiber. Enjoy with seasonal fruit for a palate-pleasing meal.
CALORIES: 360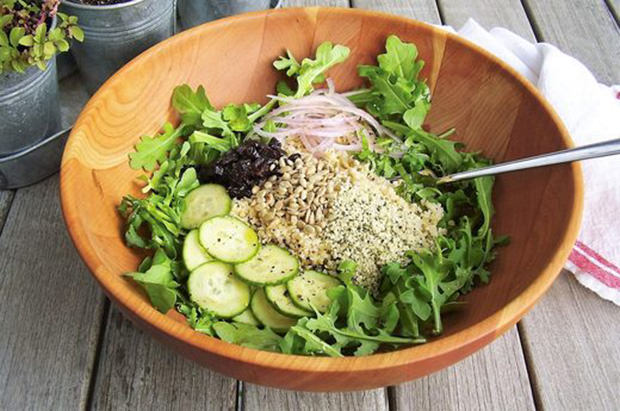 10. Seeds and Greens Bulgur Buddha Salad
Having a salad is always a good idea. But it suffers from a calorie problem. Sometimes it offers far too few calories to be a complete meal. Other times it's accessorized with so many rich goodies that it can have far too many calories. This salad is just right! Plus it provides protein from hemp seeds and bulgur, so your muscles will be pleased. And don't worry about lengthy cooking times for the grain here. Bulgur is a quick-cooking whole wheat that you can prepare in advance. This salad is refreshing and light, yet surprisingly filling.
CALORIES: 395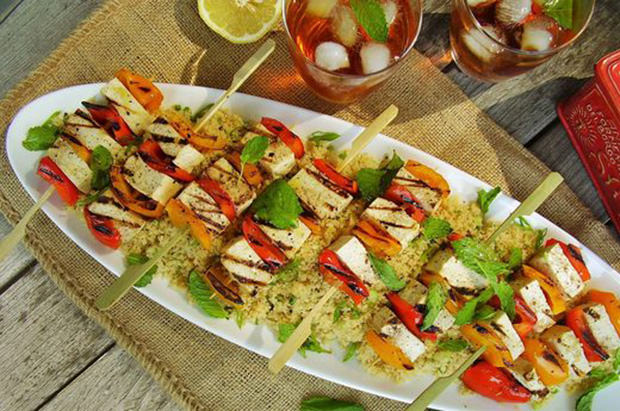 11. Lemony Charred Greek Tofu Kebabs on Couscous
Tofu is at its finest when grilled. The same can be said of sweet bell peppers. Put them together on skewers and serve on a bed of couscous and you've got a winning dish. To prepare it, first choose organic tofu to assure it's GMO-free. (Regular intake of tofu may reduce risk of stomach cancer!) Marinate it in fresh lemon vinaigrette, skewer it along with peppers and grill. While grilling, you'll make whole-wheat couscous -- it's ready in five minutes. Scallions, garlic and sea salt add a pop of flavor. A generous sprinkling of fresh mint at serving is a highlight.
CALORIES: 378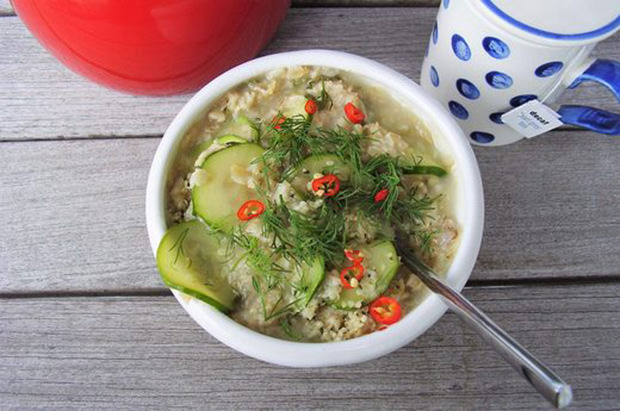 12. Savory Vegan Zucchini Oatmeal
Oatmeal is no longer just for breakfast. This recipe is a perfect example. It's kind of like risotto, but based on oats rather than Arborio rice. You'll simmer oats in water, lemon juice and sea salt, along with sliced fresh zucchini, scallion and olive oil. It's such a comforting way to get soluble fiber and to keep blood sugar and cholesterol in check. To make this a real meal, hemp seeds assure you're getting a bit more protein. Fresh dill brings everything together in a fragrant, savory way. Get out the big bowl -- it's a large helping!
CALORIES: 388
What Do YOU Think?
Are you a vegetarian or trying to include more vegetarian meals in your eating routine? Why or why not? Do you find it challenging to be a strict vegetarian? What's your favorite vegetarian meal or restaurant? Please leave a comment below and let us know.
Some Other Things You May Like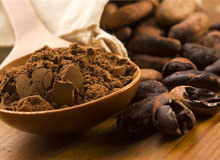 The Health Benefits Of Cacao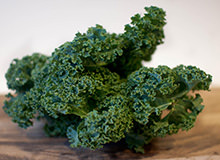 The Proven Benefits Of Kale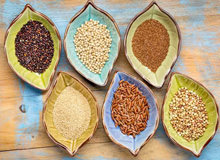 Are Ancient Grains Better for You?
How To Build Any Salad Like A Boss