29 Sandwich Recipes That Are the Best Things Between Sliced Bread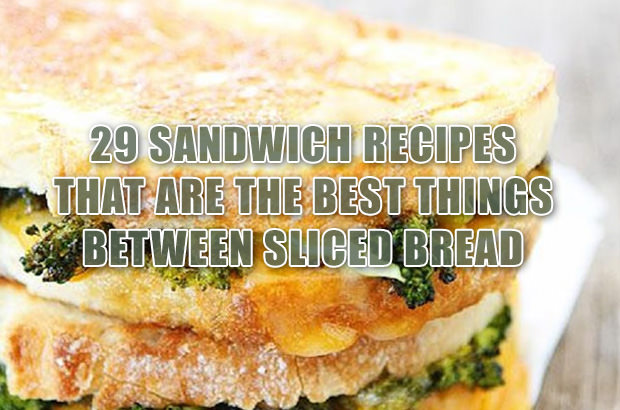 If the culinary world were a popularity contest, the first place prize wouldn't be snagged by posh kale or trendy cronuts—the winner would be the humble sandwich. What other recipe can be dressed up or down, comes in flavors from basic to gourmet, and is often ready in less than five minutes? Plus, portable meals make healthy eating much easier in our busy world! No wonder Americans eat an average 200 sandwiches each year.
That said, not every handheld comes with stellar health perks (we're looking at you, donut sandwich!). To help navigate the sand-scape, we rounded up 29 scrumptious and nutritious bites to fit every persona, whether you're in the mood for a trendy collard wrap, jonesin' for a gooey grilled cheese, in need of breakfast on-the-go, or simply looking for a sweet dessert.
Basics
1. Triple Decker California Club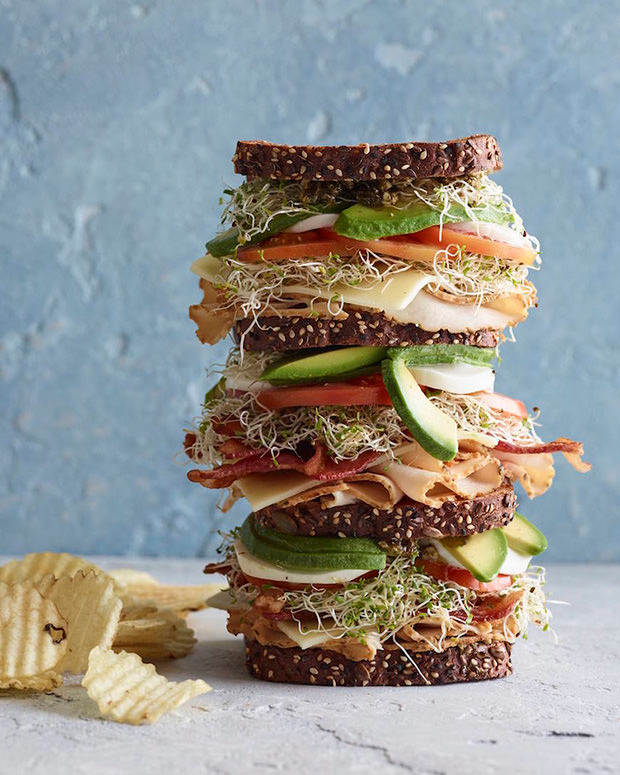 It's said that California knows how to party, and this handheld clearly embodies that maxim. A triple-decker threat, three slices of bread are layered with bacon, avocado, fresh mozzarella, alfalfa sprouts, tomatoes, and pesto—it's precisely engineered to make taste buds go wild. You could lessen the number of decks to cut down on carbohydrates, but why deprive yourself?
2. Tempeh Reuben Club Sandwich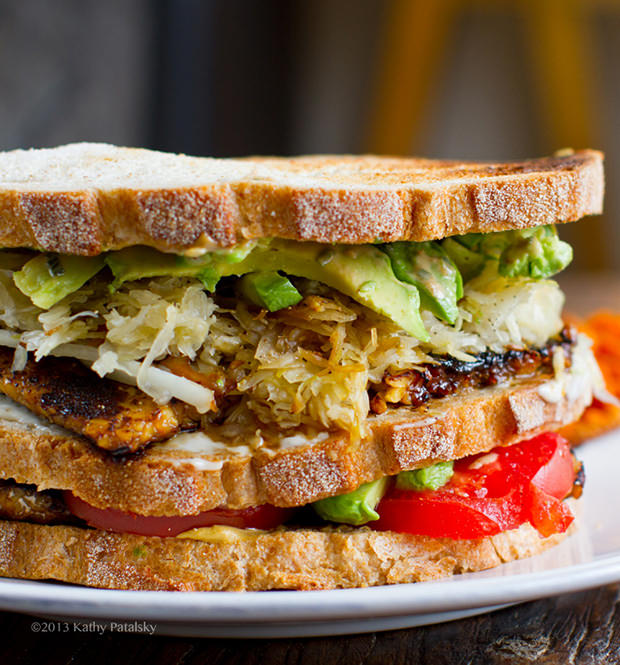 The deli icon gets a meatless makeover in this recipe. Tamari and maple syrup-blackened tempeh are stacked between avocado, tomatoes, and traditional sauerkraut—a great source of gut-healthy probiotics. Instead of the usual Russian dressing (which can be a little heavy on the fat), this recipe features a lighter, vegan version made with tahini.
3. Mediterranean Veggie Sandwich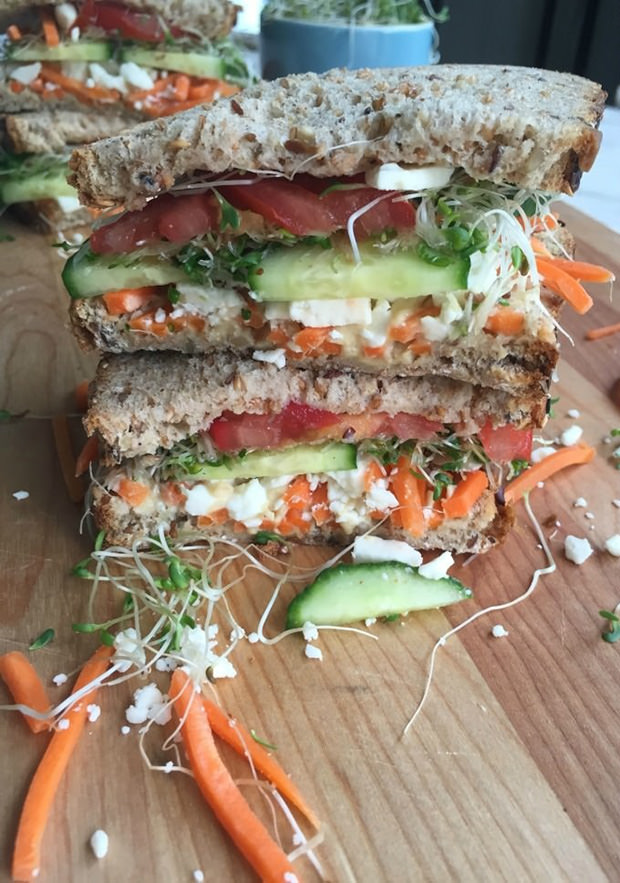 Looking for a way to squeeze in your veggies without chowing down on salad? This sandwich packs in sprouts, carrots, tomatoes, and cucumbers, plus creamy hummus and crumbled Feta. Don't be surprised if you're a bit more cheery after eating—studies found that foods part of the Mediterranean diet, like the fresh produce and beans in this recipe, can increase happiness.
4. Leftover Turkey Salad Sandwich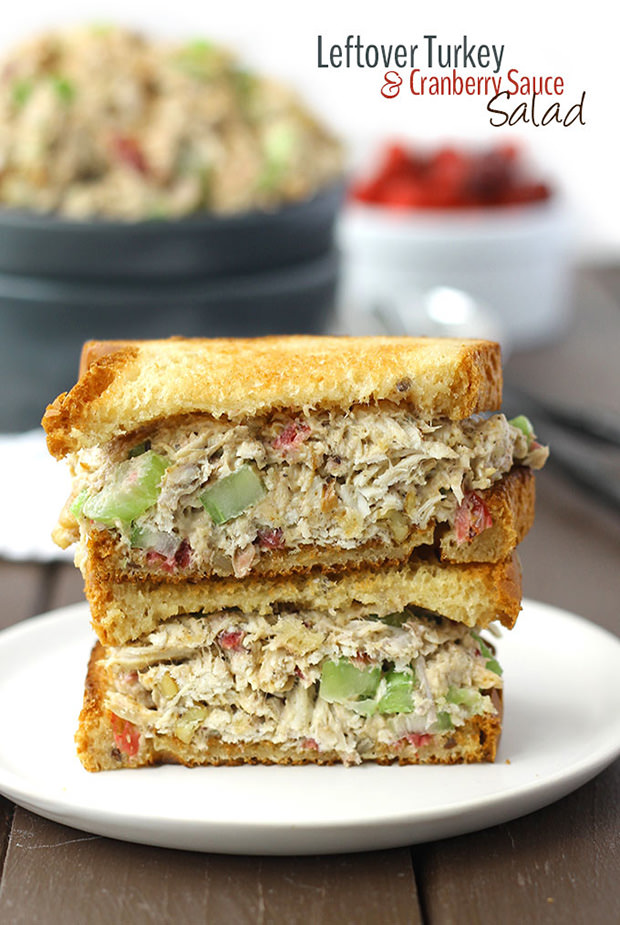 Thanksgiving only comes once a year, but who says you can't enjoy its glory over and over? Shredded turkey mixes with celery, green onions, crunchy walnuts, and cranberry sauce (of course) for a sammie that brings the holiday back no matter what time of year it is. Don't have that special bird? Sub in chicken for equally yummy eats.
5. Chickpea Salad With Potato Chips

Tuna salad is a trusty lunchtime friend, but if you're looking for some novelty, replace the fish with chickpeas for an equally satisfying base. The high-fiber beans have no problem mingling with the usual add-ins like red onion, sweet pickles, mayo, and a dash of mustard. This blogger goes a step further by piling on more pickles and chips (just like in grade school!) for a crunchy, creamy lunch.
Wraps and Pockets
6. Greek Chicken Salad Pita Tacos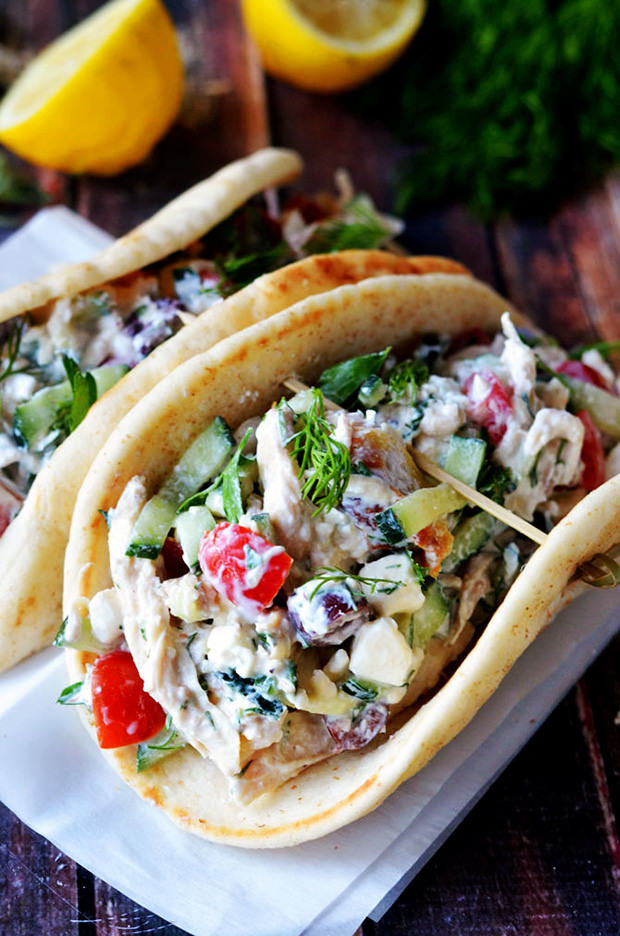 If you can't fund a trip to Greece, this pita taco is basically the next best thing—at least for your taste buds. The standard Mediterranean superstars—cucumber, tomato, olive, onion, and Feta—are tossed in a homemade tzatziki sauce and sandwich by doughy pita. And the whole thing comes together in just 15 minutes!
7. Vegan Buffalo Chicken Wraps

Here's a meatless spin on a game day staple. In this recipe, hearty seitan—a wheat-based meat substitute high in protein—is coated in a gooey homemade red lentil buffalo sauce and topped with kale, Roma tomatoes, and a dairy-free cashew dressing. The prep work is worth it, plus extra sauce and dressing is perfect for dipping vegetables or putting on pizza.
8. Sriracha Tempeh Cauliflower Wrap

Tempeh is a winner when it comes to vegetarian protein. It's a great source of manganese (important for everything from muscle and nerve function to bone, heart, and immune health) and offers digestive perks thanks to its fermentation. Here it's paired with a cruciferous superstar, cauliflower, and a homemade sriracha hummus for a spicy, satisfying handheld.
9. Southwest Hummus Wraps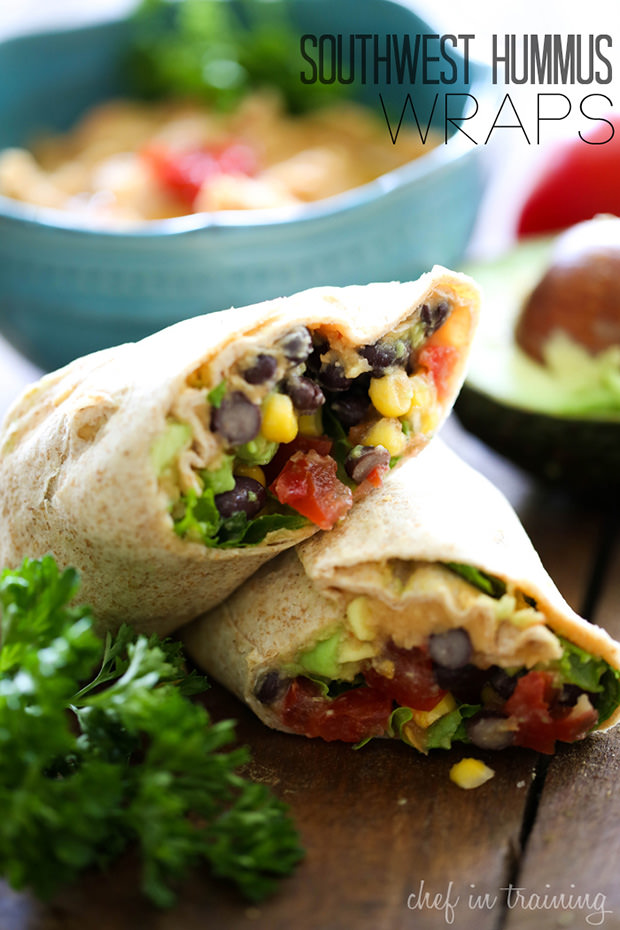 Mexican meets Mediterranean in this dish that combines the best of a burrito with a spicy hummus. Filled with corn, avocado, black beans, and tomatoes, it's a mash-up of two of our favorite cuisines that deserves two thumbs up.
10. Mediterranean Chicken Pita Tacos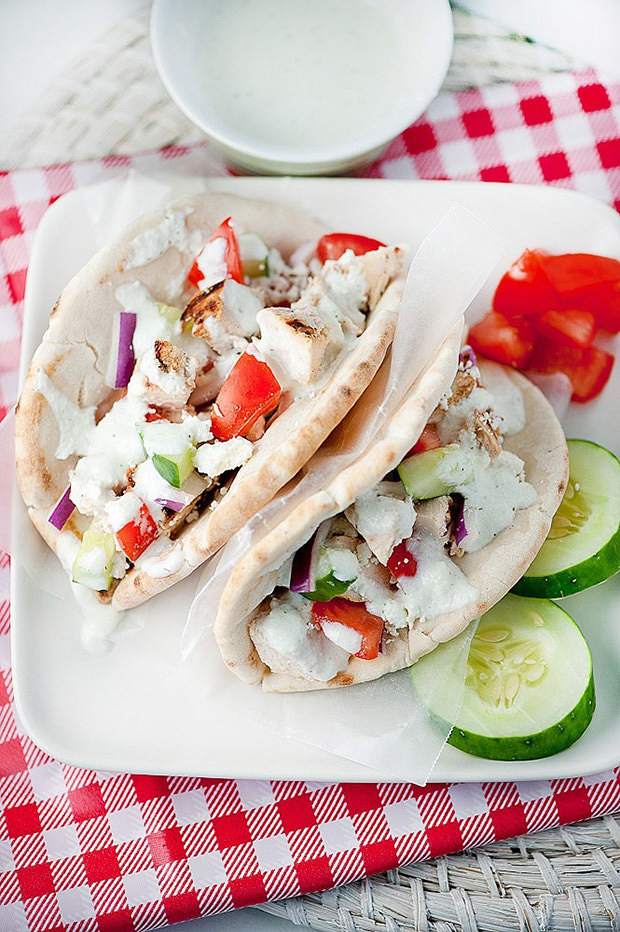 Whether you're looking to spice up a picnic or your lunch bag, these grab-and-go taco pockets are super easy and savory. Hearty chicken provides protein, while tomatoes, cucumbers, and red onion add nutrients and crunch. The recipe calls for fat-free Feta, but we prefer the filling, full-fat kind. Topped with a creamy tzatziki sauce, it all comes together in a soft pita.
Green Wraps
11. Green Taco Wrap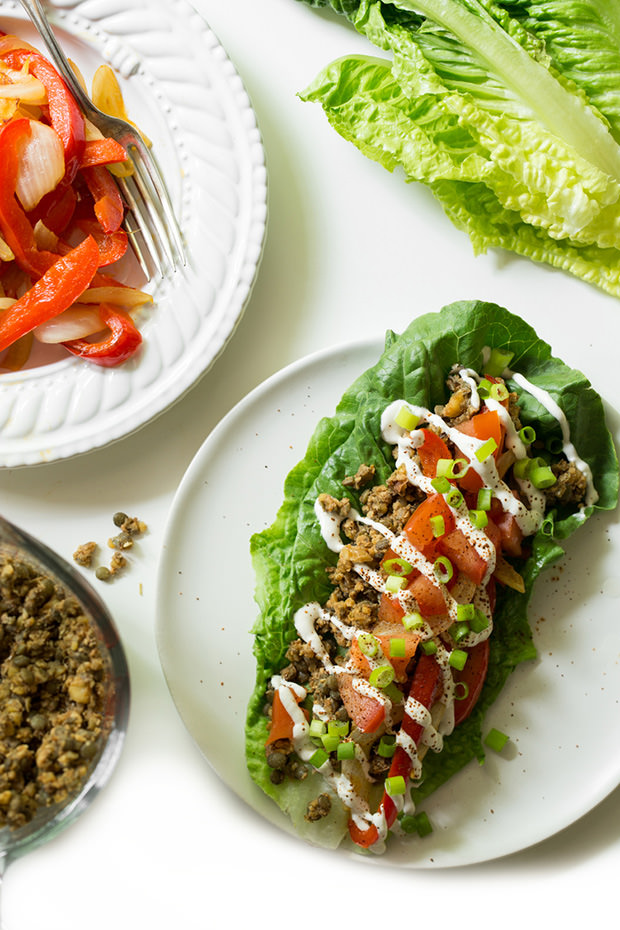 Mexican food is a tough cuisine to make vegan, but it is possible to go meat-free without sacrificing flavor. The lentil walnut "meat" in this recipe is so good at immitating beef that you won't even remember it's amiss. Placed atop a bed of crunchy romaine and layered with onions and bell peppers, this may become your new Taco Tuesday favorite.
12. Swiss Chard and Bulgur Rolls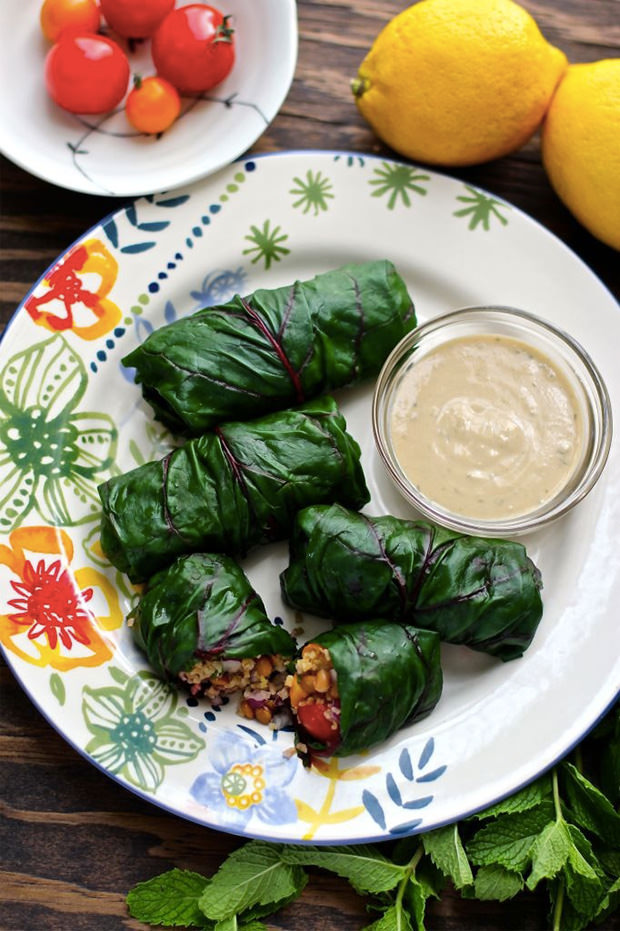 We love us some quinoa, but if fatigue has set in with the seed, bulgur—a close relative—is equally healthy and delicious, and packs in more fiber than pretty much any other grain. Bulgur's tender, chewy texture makes it a great add-in for salad, soups, or in this case, rolls. A cinch to assemble, these rolls are filled with lentils, tomatoes, red onion, parsley, and refreshing mint.
13. Curried Chickpea Salad Swiss Chard Wrap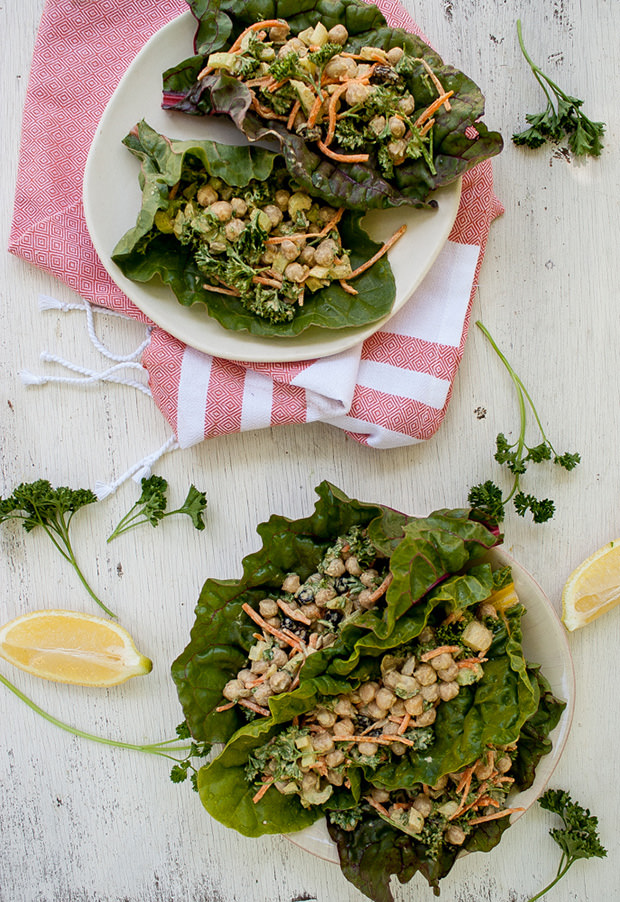 The star of many Middle Eastern and Mediterranean dishes for centuries, the chickpea is one of those ingredients that tastes good pretty much any way you prepare it. Here, it meshes with a spicy, homemade curry sauce, carrots, celery, parsley, and raisins for a delicious combo that's crunchy, sweet, and savory. The best part? The wraps keep well for days, so you can whip up a batch on Sunday and check dinner off the to-do list for days to come.
14. Thai Tempeh Collard Green Wraps

The trendy and surprisingly high in calcium collard leaf is the wrapper for these vegan, Asian-inspired rolls. Stuffed with red cabbage, bell pepper, bean sprouts, and scallions, they're loaded with fiber and crunch. The creamy, zesty ginger dressing adds a kick of flavor plus potentially cold-busting properties, making the wrap a great winter dish for lunch or dinner. Try adding quinoa for an extra dose of protein.
Paninis and Grilled Cheese
15. Green Goddess Sandwich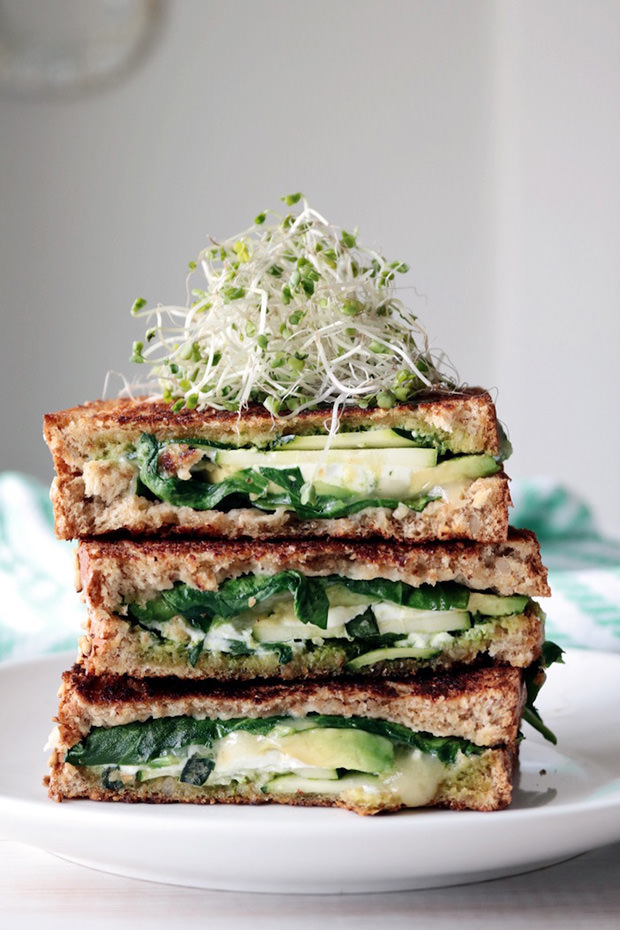 When we want to load up on greens, grilled cheese isn't the fare that typically comes to mind. But this take on the ooey-gooey fave changes all that. First, there's the insanely good homemade pesto featuring parsley, lemon, and garlic—hello, flavorful antioxidants! Then there's spinach, zucchini, and sprouts for more greens, plus buttery avocado and two types of cheese. All of that melty, creamy goodness is squeezed between two grilled slices of bread. Heaven? Quite possibly (for taste buds, at least).
16. Beet, Arugula, and Goat Cheese Grilled Cheese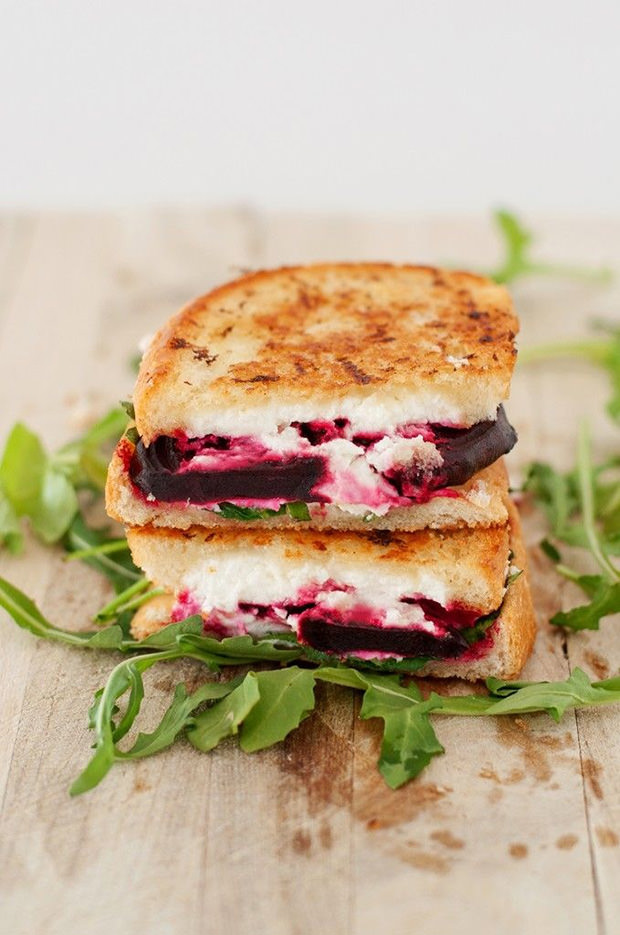 After roasting until tender, beets are cooked in sherry wine before cozying up to a thick layer of goat cheese and arugula. Not only is this delicious, but it could also be a good pre-workout lunch: Beet juice has been shown to improve exercise performance, and the whole root vegetable provides similar benefits. Credit the nitrates, which cause muscles to use less energy to do the same amount of work.
17. Spinach and Artichoke Grilled Cheese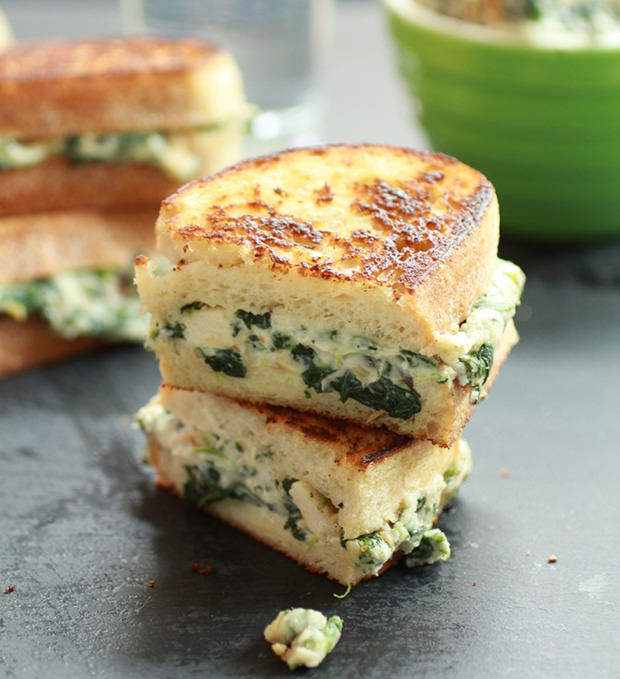 Hummus isn't the only party dip to smear in a sandwich! Spinach, artichoke hearts, and a mixture of mozzarella, parmesan, and cream cheese are blended together for a rich spread that tastes even better between bread than it does on chips. Add turkey or chicken for additional protein—this toasty lunch is way healthier than the standard grilled cheese!
18. Roasted Broccoli Grilled Cheese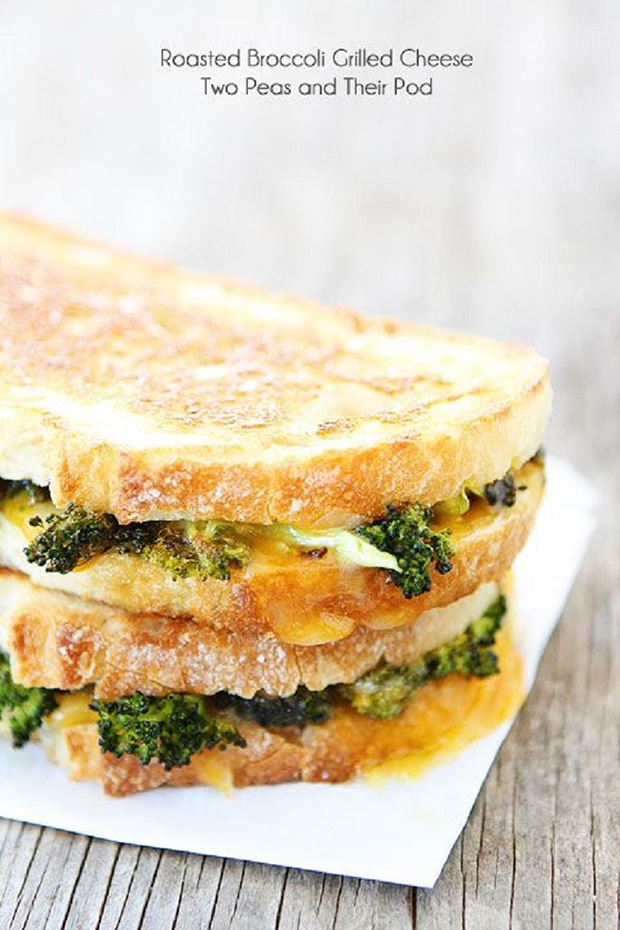 In the mood for a creamy broccoli cheddar soup but lacking the time (or motivation) to baby-sit a pot? This sandwich is sure to satisfy the craving without all the fuss. Oven-roasted broccoli is paired with sharp cheddar cheese for a quick and delicious alternative made from minimal, wholesome ingredients.
19. Kicked-Up Tuna Melts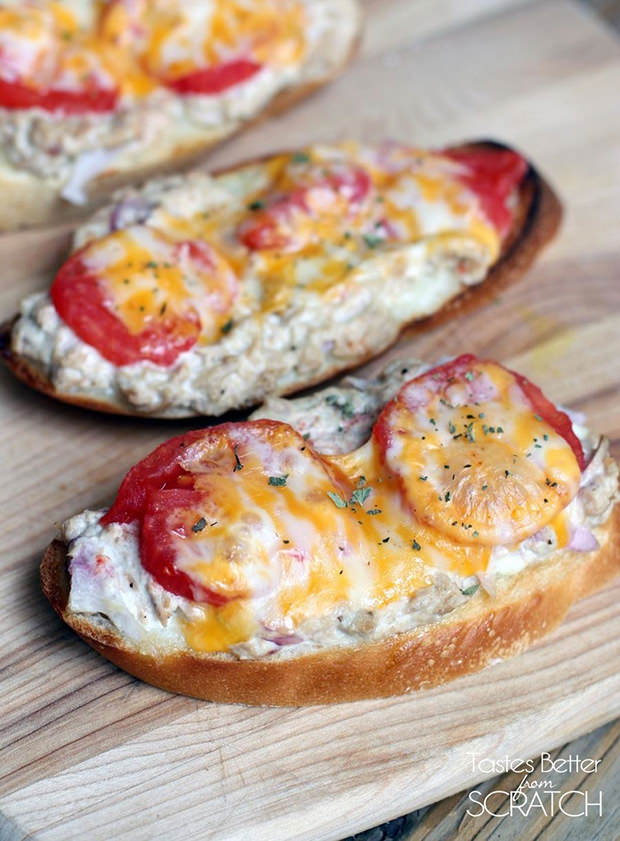 Canned tuna can feel a little uninspired, but there are many innovative ways to climb out of a tuna salad rut. The capers, oregano, and lemon juice in this recipe give the fish a tangy, salty twist, and the lycopene-rich tomatoes add juicy flavor and a pop of color. Top with provolone and behold your new go-to recipe for a quick lunch.
20. Loaded Veggie Grilled Cheese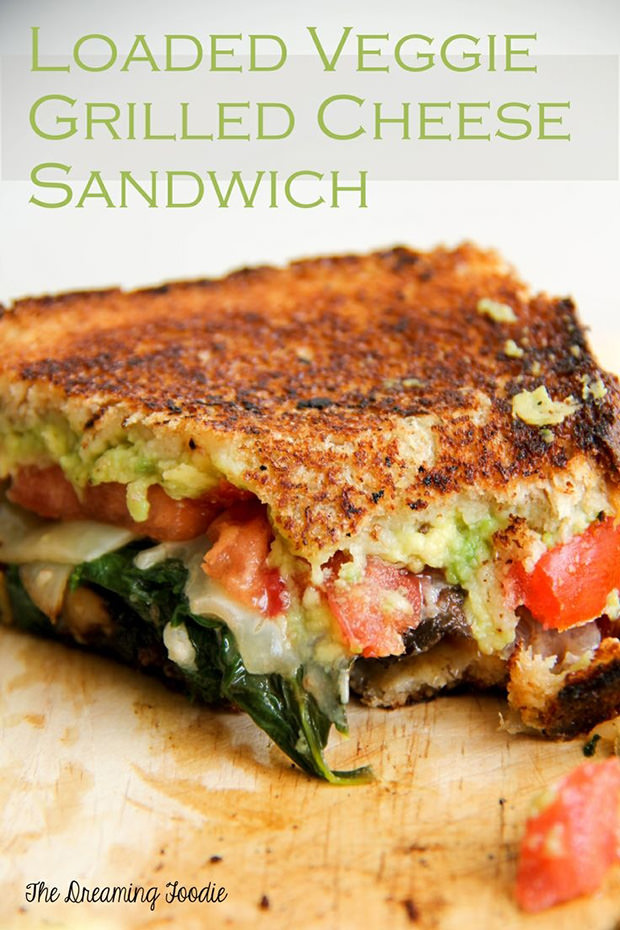 Tossing raw veggies into a grilled cheese is a-OK, but cooking them first makes the flavors that much richer—and it only takes a few minutes to caramelize onions, wilt spinach, and sauté balsamic Portobellos. Trust us, it will make this sandwich taste that much better. Feel free to mix and match the produce to your liking, but don't skip the cheese or the guac.
Breakfast
21. Mediterranean Breakfast Sandwich

There's nothing like an egg and cheese sandwich to start the day (or to enjoy anytime), and this one boasts loads of colorful veggies for even more flavor and nutrients. Mash avocado with lemon juice, salt, and pepper and smear on rosemary foccacia (or your bread of choice). Spread the other slice with pesto, and layer with egg, spinach, sundried tomatoes, feta, and melted mozzarella for a loaded morning bite.
22. Peanut Butter, Strawberry, and Banana Quesadillas

Quesadilla for breakfast? Don't mind if we do! Banana and strawberries provide filling fiber, while protein-rich peanut butter binds it all together. Feel free to sub in any fruit you have on hand—or experiment with different nut butters—for a quick meal that's truly grab-and-go.
23. Smoked Salmon and Avocado Egg Sandwich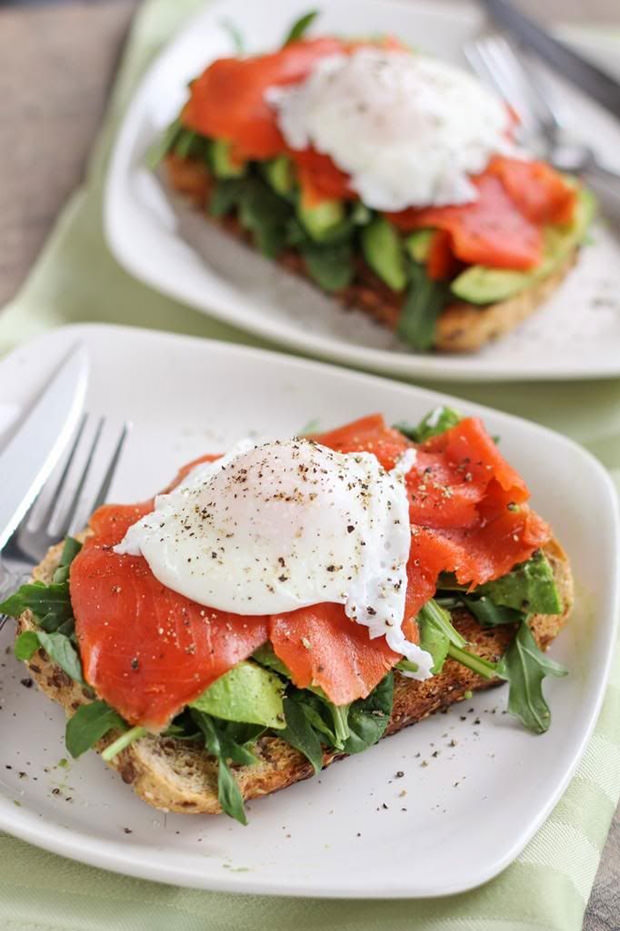 When you're looking to power up in the morning, turn to this recipe that is anything but wimpy—or time-consuming. A soft poached egg provides six grams of protein plus choline, an essential nutrient that plays a role in everything from cell membranes to nerve and muscle function. The sliced lox contributes heart-healthy omega-3s, and after adding a bed of arugula and spreading some avocado, lunch won't cross your mind for hours.
24. Peanut Butter and Jelly French Toast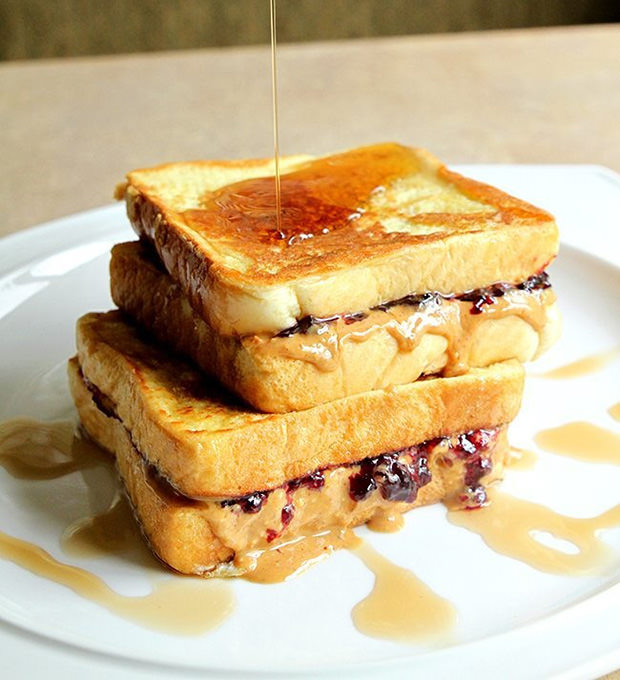 Two childhood favorites come together for the ultimate throwback. While the main staples of peanut butter and jelly keep the recipe classic, you can certainly swap in whichever nut butter or jam you have on hand. Maple syrup adds an extra dose of sweet goodness, though the toasts are delightful by themselves.
25. Chickpea Avocado Mash on Toast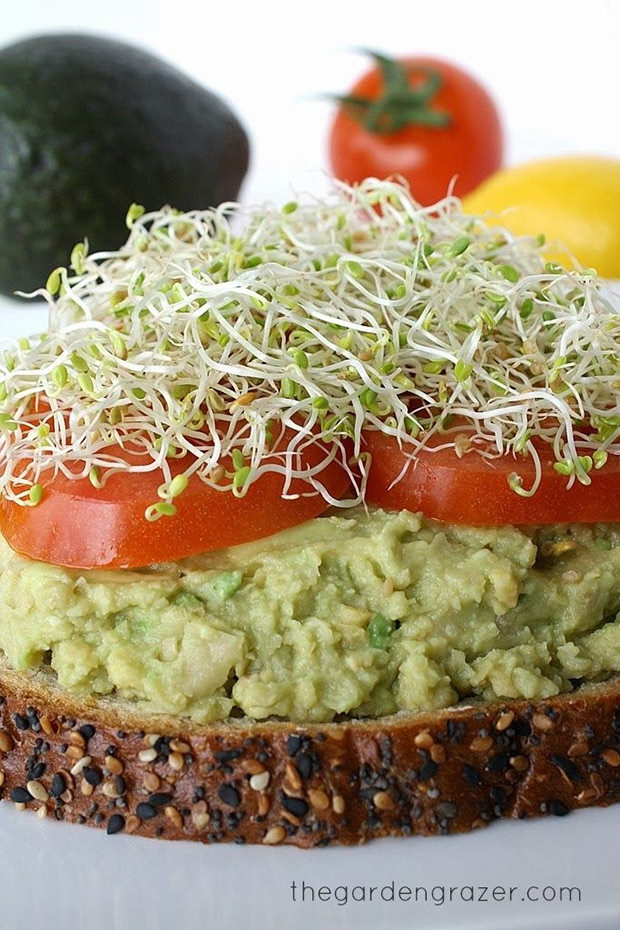 With all the variations out there, it's impossible to get sick of avocado toast. But if you're worried, try this recipe—after all, the morning superstar is a great source of healthy fats and provides a slew of vitamins. Putting the sandwich together is as easy as mashing avocado with chickpeas and finishing the combo off with some salt, pepper, and lemon juice. Feel free to garnish with sprouts, tomatoes, or chives for an extra flavor boost.
Dessert
26. Balsamic Blueberry Grilled Cheese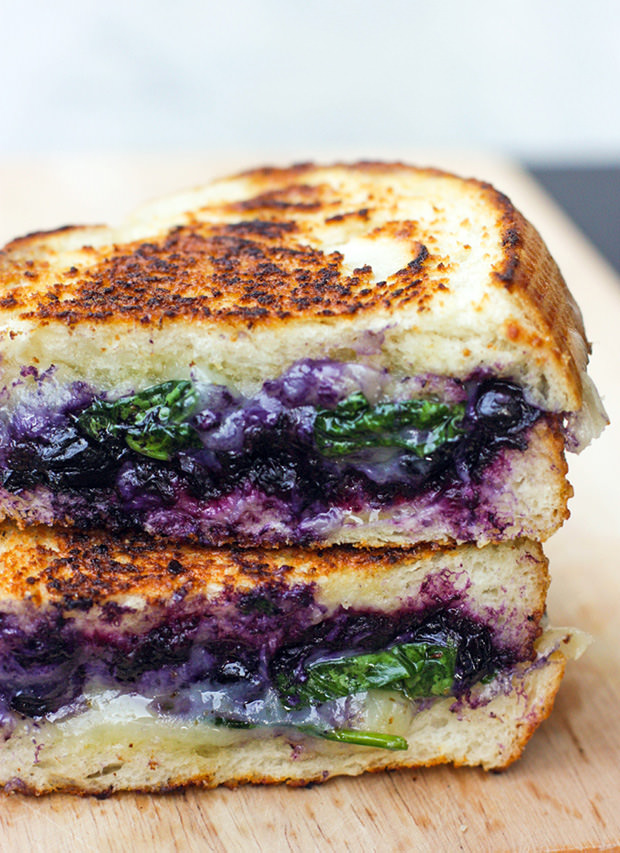 Antioxidant-packed blueberries aren't just for pancakes and summer desserts. In this rendition, the berries are tossed with balsamic vinegar, laced with sugar, and sautéed to a jam-like consistency. The spread is smeared onto sourdough and topped with Havarti and spinach for the perfect blend of sweet and tart flavor.
27. Chocolate, Fig, and Bacon Sandwich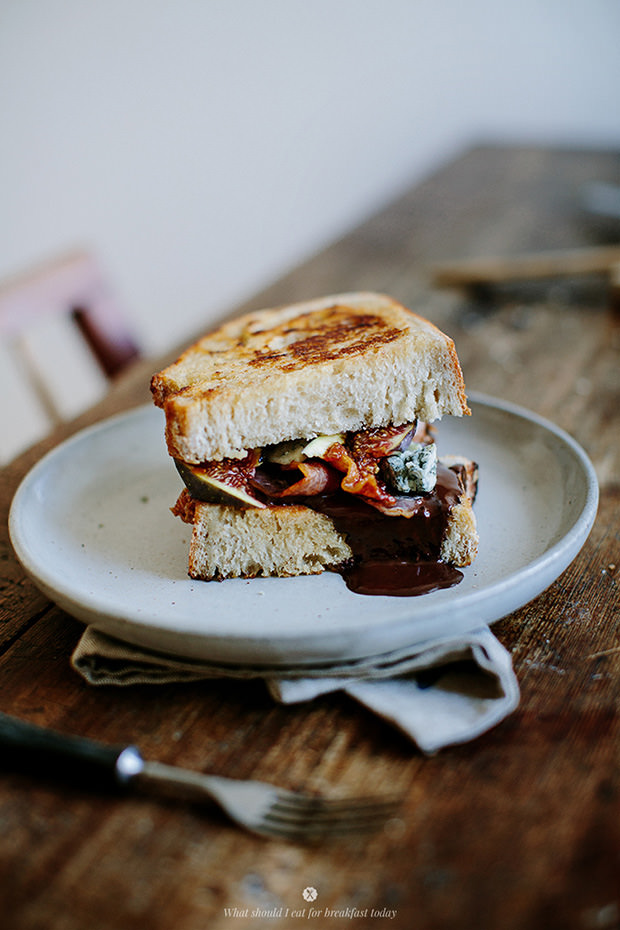 There's no doubt that bacon is a culinary superstar, but when it joins forces with chocolate, the duo shines even more brightly than when alone. With a supporting cast of sweet figs and full-bodied blue cheese, this sandwich is like eating at a super fancy restaurant, but without the price tag.
28. Apple Pie Grilled Cheese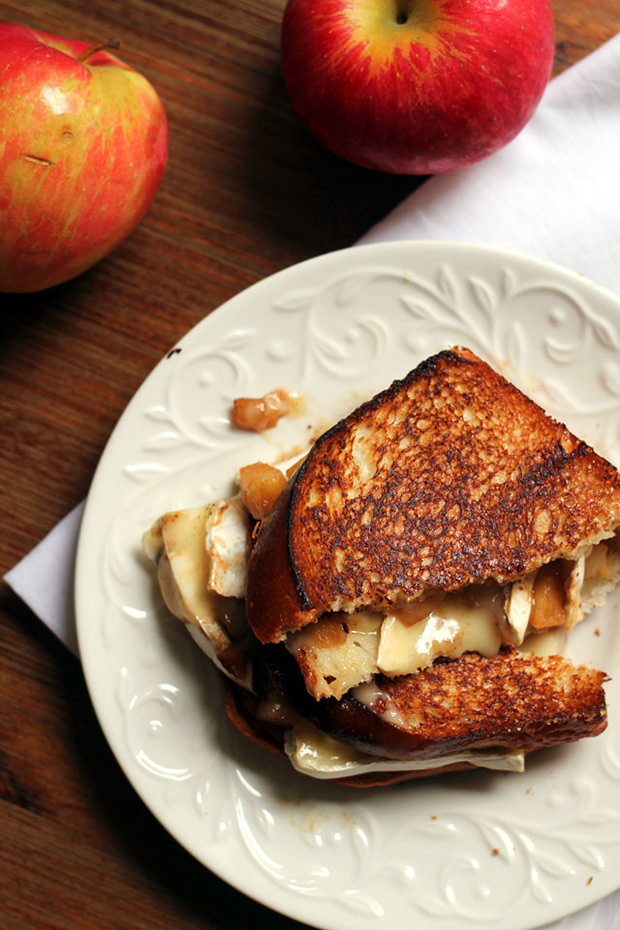 It may seem scandalous to mess with classic apple pie, but trust us, this recipe will only increase your love for the American treat. Sliced apples find a cushion between Brie, brown sugar, cinnamon spinkled bread. Want to #treatyoself? Add a dollop of vanilla bean ice cream. It's a dessert, after all.
29. S'mores Panini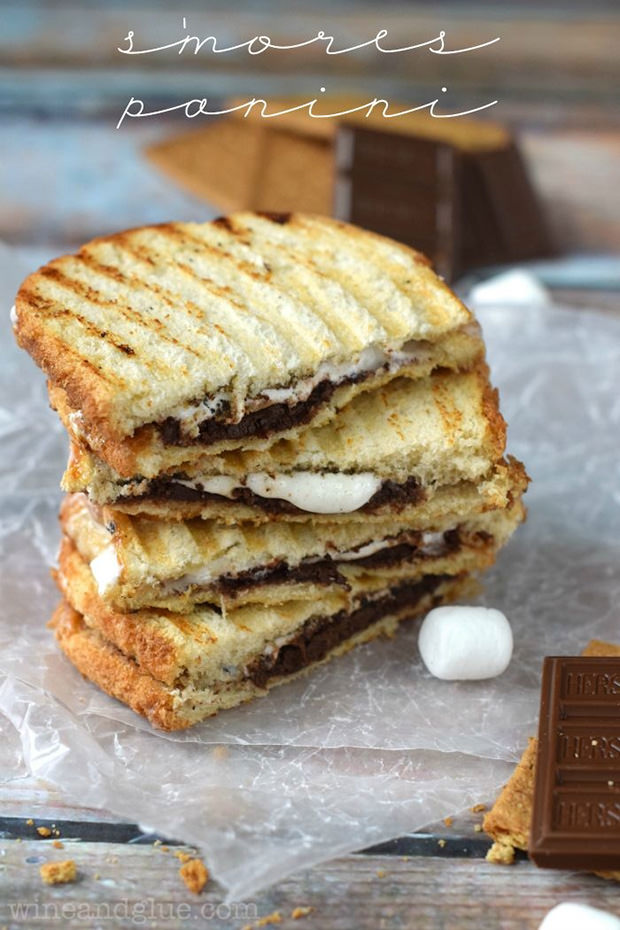 Too cold for a bonfire? This grilled treat is the next best way to recreate the campsite favorite. A giant marshmallow is optimal, but you could also use fluff or a handful of the little guys. Instead of a packaged cocoa spread, we recommending using a square of dark chocolate for a blast of antioxidants and free-radical busting flavonoids. Who said you can't create a healthy dessert?
Some Other Things You May Like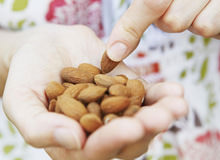 Eating Tips To Increase Your Productivity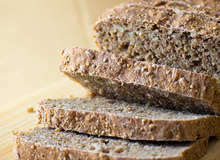 Should You Be Eating Sprouted Bread?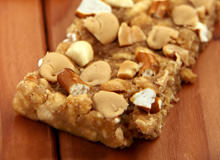 Make Your Own Peanut Butter Pretzel Bars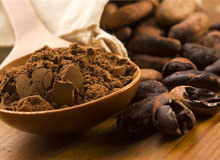 The Health Benefits Of Cacao