7 High-Protein Breakfasts That Aren't Eggs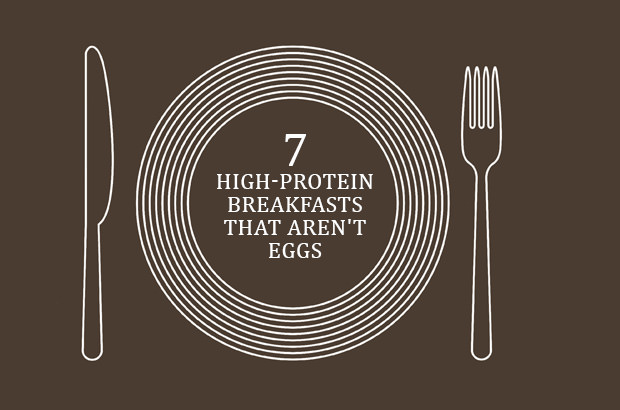 Most diets skew protein consumption towards the evening meal, leaving breakfast lacking in this important muscle-building, satiating nutrient. This unbalanced intake doesn't quite give the hardworking muscles all they need, nor does it perform the job of helping curb appetite throughout the day.
Furthermore, our bodies have a limited capacity to store excess dietary protein from a single meal. In other words, your steak dinner isn't going to help with building muscle the next morning. The solution? Amp up protein in the morning (and throughout the day). So what do you choose? Eggs are the most likely choice, and while they're a superior choice, there are many other high-quality protein options that you can enjoy in the morning to keep it interesting.
1. Smoked Salmon Avocado Toast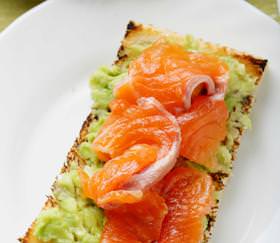 Smoked salmon doesn't get enough love. In addition to being a great source of protein, smoked salmon offers a solid dose of healthy omega-3 fats. Want to make it even better? For this breakfast, enjoy sprouted-grain bread, avocado and wild salmon topped with garlic and herb seasonings. The combination of sprouted-grain bread, with about four grams of protein per slice, along with the smoked salmon, puts this combination above 20 grams of protein. And it's certainly not lacking in flavor!
Ingredients
2 slice Sprouted Whole Grain Bread
1/2 medium avocado, sliced
3 oz Smoked Salmon
1 pinch Perfect Pinch Salt Free Garlic & Herb Seasoning
NUTRITION INFO: 24 grams of protein, 7 grams of carbohydrates, 21 grams of fat
2. Red, White and Blue Parfait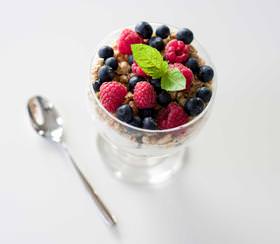 This easy parfait (for kids and adults alike) pairs cottage cheese with berries and almonds. This breakfast offers 13 grams of protein per half-cup of cottage cheese and another six grams in the almonds, topping out at almost 20 grams of protein in total.
Ingredients
1/2 cup Blueberries
1/2 cup cottage cheese
1/2 cup Raspberries!!
1 oz almonds
1 dash Cinnamon, Ground
NUTRITION INFO: 19 grams of protein, 29 grams of carbohydrates, 10 grams of fat
3. Sunshine Smoothie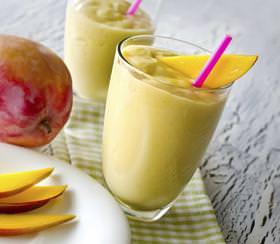 Smoothies are fast, simple breakfasts that can be loaded with nutrition and eaten on the go. But while smoothies can be loaded with quality nutrition, it's important to craft them carefully so you're getting the nutrition you need without overdoing the sugar and calories. This one is a perfect start to the day; it offers high-quality protein, kefir for a healthy gut and nuts for some healthy fats as well.
Ingredients
1/2 cup Lifeway Lowfat Kefir
1 cup Frozen Mango Chunks
1 cup cottage cheese
1 tsp pure vanilla extract
1 oz almonds
1 Ice Cube, to taste
NUTRITION INFO: 36 grams of protein, 51 grams of carbohydrates, 13 grams of fat
4. Amped-Up Bircher Microbe Muesli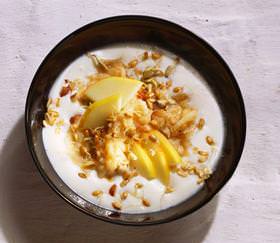 Muesli, like smoothies, can be done the right way (good-for-you ingredients) and the wrong way (loads of sugar). Choosing the healthier ingredients, such as Greek yogurt, dried fruit, chia seeds, hemp seeds, apples and almonds, make this an amped-up muesli offering probiotics, fiber, protein, omega-3s and vitamin E.
Ingredients
1/2 cup Oats, Rolled
3/4 cup Lifeway Organice Lowfat Plain Unsweetened Kefir
1/4 cup Apple, diced
1/2 cup Greek Yogurt, Plain
1 tbsp California Golden Raisins
1 tbsp hemp seeds
1 tbsp Raw almond
NUTRITION INFO: 31 grams of protein, 54 grams of carbohydrates, 13 grams of fat
5. Quinoa Porridge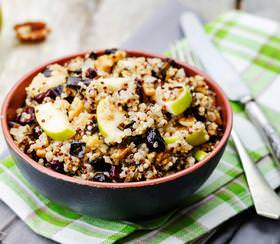 Normally served for dinner, quinoa makes a unique breakfast "cereal" as well. And with eight grams of complete protein per cup, it fills the morning nutrient void too. Add in milk and almond butter and you've got one seriously high-protein breakfast option.
Ingredients
1/3 cup dry quinoa
1/4 Medium Apple, chopped
1 tbsp California Golden Raisins
1 tbsp Natural Almond Butter
3/4 cup cup of milk
1/4 tsp Cardamom
1/4 tsp Cinnamon, Ground
NUTRITION INFO: 17 grams of protein, 63 grams of carbohydrates, 17 grams of fat
6. Chocolate Nutter Butter Smoothie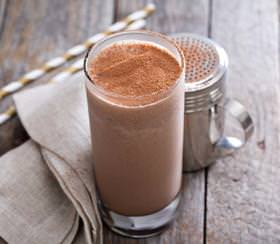 This tasty concoction not only offers kefir (a fermented dairy product) for a healthy gut, but it also combines high-quality whey protein, cacao, bananas, pecans and spinach for a flavorful, nutrient-dense way to start your day.
Ingredients
1 tbsp Raw Organic Cacao Powder
1 scoop Chocolate Protein Powder
1 medium frozen banana
1 cup Nonfat Plain Kefir
2 tbsp Pecans
1 cup Spinach, Raw
3 Ice Cube, to taste
NUTRITION INFO: 37 grams of protein, 50 grams of carbohydrates, 12 grams of fat
7. Breakfast Burrito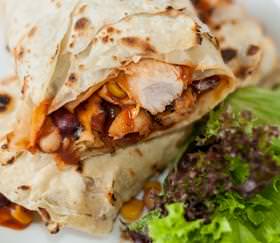 This is a perfect breakfast for using up leftover meat from the night before. Pairing with sweet potato, Greek yogurt and sprouted-grain tortillas makes it a healthy and delicious breakfast too.
Ingredients
3 oz Steak, Sirloin
1 medium Baked Sweet Potato!, chopped
1 tbsp Taco Seasoning
1/4 cup water
2 tsp canola oil
2 tbsp Plain Greek Yogurt
2 tbsp fresh cilantro, chopped
1 Sprouted Grain Tortillas
NUTRITION INFO: 35 grams of protein, 53 grams of carbohydrates, 15 grams of fat
Some Other Things You May Like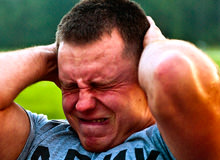 The Benefits Of High Intensity Interval Training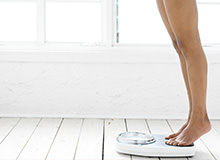 Reasons Why Running May Not Help You Lose Weight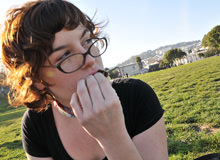 Dangerous Foods That Are Actually Good For You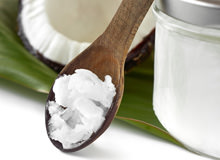 Scientifically Proven Benefits Of Coconut Oil