9 Easy Overnight Vegetarian Breakfasts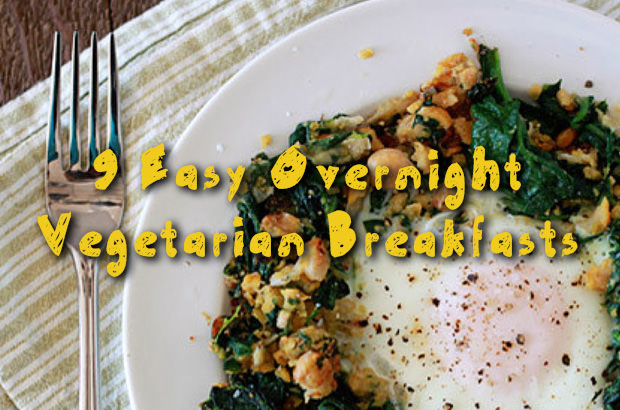 It's not often that anyone has an hour in the morning to spend whipping up a great big balanced breakfast. But a nutritious meal is possible even when time is a rare commodity. These recipes are designed for anyone with little time to fix a morning meal -- or who prefers the snooze alarm to satisfying bites. But you can hit that snooze button if you wish and still start the day on a healthy note with big flavor. In fact, some of these recipes require as little as 30 seconds of prep time in the morning. You'll make these tasty breakfasts at night so they're ready to go in the morning. As a bonus, they're vegetarian, including four vegan recipes, for a plant-based health boost. Enjoy daily!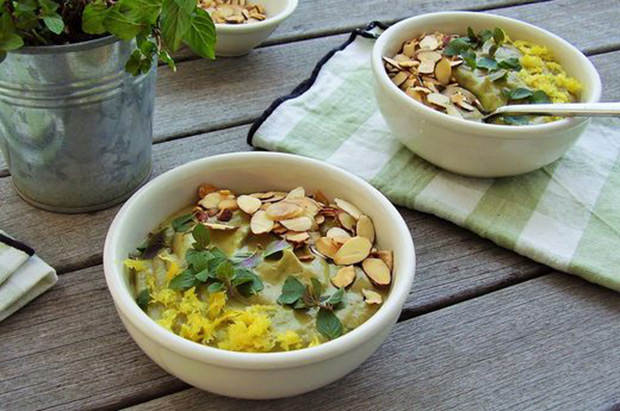 1. Avocado Smoothie Bowl With Almonds and Mint
Smoothies aren't just for drinking. A trendy way to enjoy them is to politely slurp them up with a spoon. Smoothie bowls may be more satisfying because it'll seem like you're really eating. One easy trick to a good smoothie bowl is to whirl up a traditional smoothie a little thicker than usual. Two key ingredients that result in a lusciously thick smoothie bowl are avocados and bananas. They're both used here for a luxurious mouthfeel, a punch of potassium and much more. Another key to a winning smoothie bowl is to accessorize it. Here you'll have crunchy, fragrant and refreshing toppings by way of almonds, fresh mint and lemon zest, respectively. Savor every spoonful of this tropical bowl for breakfast -- or anytime.
CALORIES: 267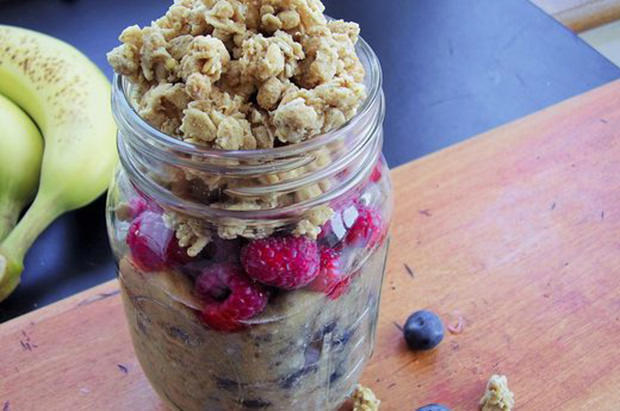 2. Vegan Banana-Berry Granola Parfait in a Jar
Is your fruit intake falling short? According to the U.S. Centers for Disease Control and Prevention (CDC), only 13 percent of U.S. residents eat the daily recommended amount of fruit. Enjoying this parfait regularly will help improve that stat. In fact, one of these make-ahead parfaits will provide an entire day's worth of fruit. It has natural appeal from chia seeds and granola and vivid pops of red and blue from the fresh berries. Most importantly for the palate, it tastes super fruity because, in fact, it is!
CALORIES: 424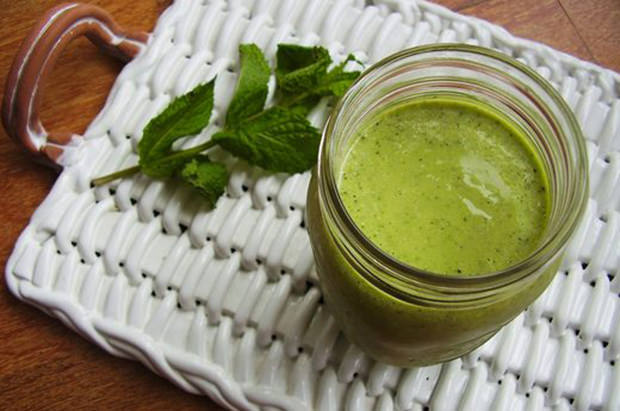 3. Mason Jar Hemp Green Smoothie
Drinking your vegetables and fruits is one of the easiest ways to boost produce intake. When you do, the best approach is to make a smoothie in which you'll get benefits of the whole fruits and veggies, including fiber, as opposed to juicing. Also, be sure it includes a bit of healthful fat to help you absorb more carotenoids and fat-soluble nutrients, such as vitamin A, E and K. Foods rich in healthful fats that are ideal for smoothies include hemp seeds, avocados and nut butters. The pick for this delicious and vibrant smoothie: hemp seeds. You can whirl it up in the evening so all you need to do is drink it up in the morning.
CALORIES: 416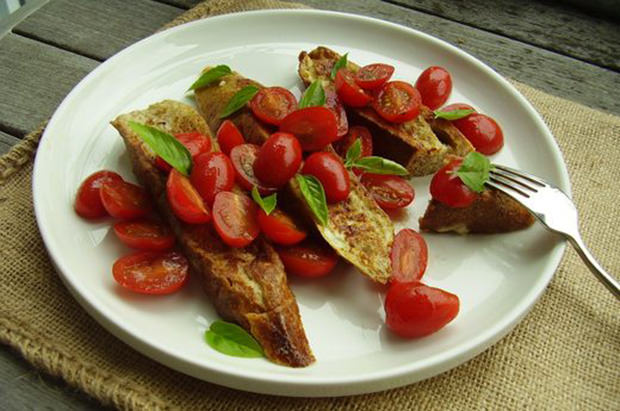 4. Italian-Style French Toast
Is Italian toast the new French toast? Why not! Typically, French toast is made from egg-soaked "white" bread, fried up in a pan and doused with a sweet topping. When served diner-style, it can have around 1,000 calories! That's definitely not the best way to start the day! So consider going savory instead. This version is just as scrumptious and kind of like breakfast bruschetta. You'll make it with whole-grain baguette slices that you'll pan-sear and top with a fresh grape tomato "salsa" and basil leaves. Your heart will thank you for it, especially due to the lycopene from tomatoes and "good" fats from the healthful amount of extra-virgin olive oil.
CALORIES: 249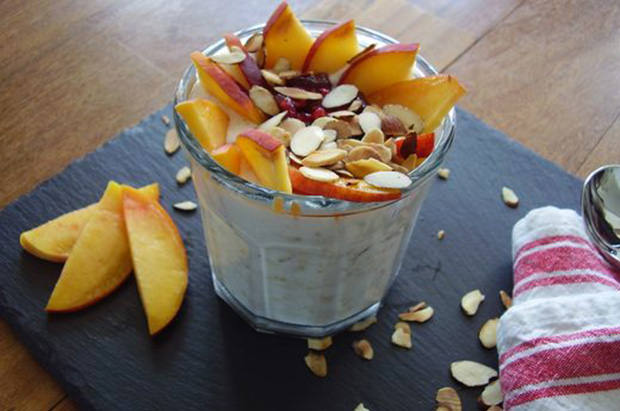 5. Overnight Peach Melba Oatmeal
Peach Melba is a classic and well-loved dessert that's been around for more than a century. It's traditionally made with vanilla ice cream, raspberry sauce, peaches and plenty of sugar. This scrumptious concept has been translated here into a naturally sweet breakfast that's good for you too. It's simple and balanced, containing whole grains, dairy, fruit and nuts. Stir together oats, milk, vanilla Greek yogurt and a little honey, and then chill overnight. In the morning, you'll simply top with fresh, juicy peaches, a dollop of raspberry jam and a generous sprinkling of natural sliced almonds.
CALORIES: 482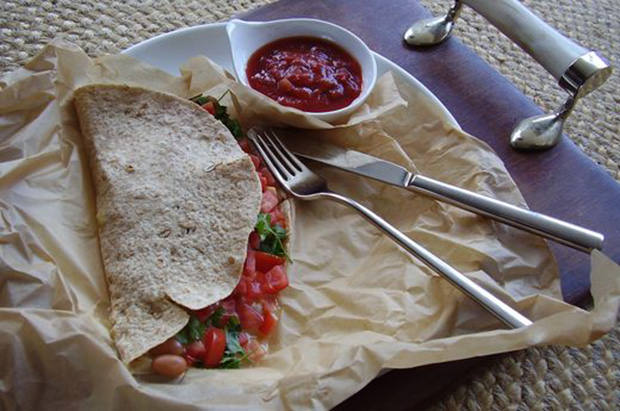 6. Big Stuffed Breakfast Soft Taco
Here's an easy way to shave off a few calories. Instead of using a 10-inch or larger tortilla to make a burrito, use an eight-inch tortilla and fold it over all the fillings to make a big stuffed soft taco. In this recipe, you'll stuff an eight-inch whole-grain tortilla with fresh scrambled eggs, scallions, Monterey jack cheese, pinto beans, tomato, lime juice and cilantro. No tucking and rolling the excess tortilla required. The best part is you'll prepare and chill this in the evening, then just reheat and eat in the morning. All of the flavors will have deliciously mingled. Savor it slowly with a fork and knife.
CALORIES: 399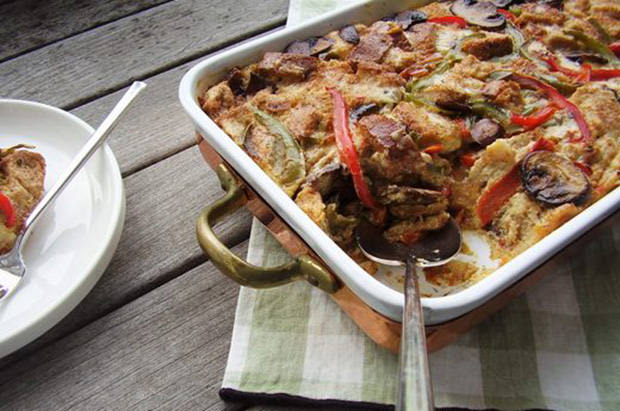 7. Special-Occasion Vegetable Egg Strata
For a Sunday brunch with the family or for an early gathering of friends, a casserole-style baked egg dish is a winner. And it's simple because you'll prepare everything in advance, chill overnight in a baking dish and then place it in the oven in the morning so it's freshly baked for mealtime. You'll feel good knowing that you're serving a hearty vegetarian entree that provides high-quality protein, whole grains and some veggies. The mushrooms provide "meatiness," so there's no need for sausage, ham or bacon. The pepper jack cheese provides a "hot" flavor kick.
CALORIES: 189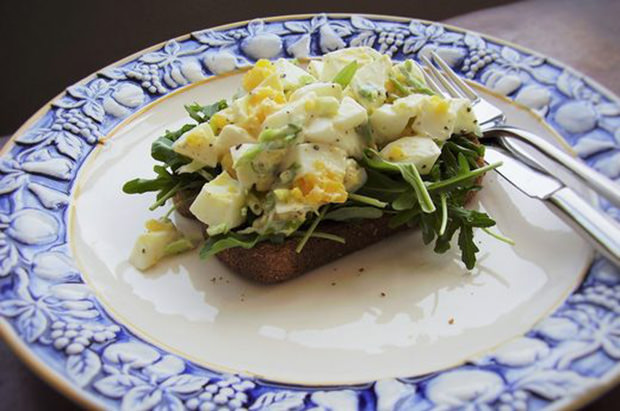 8. Overnight Egg Salad Toast
Eggs with toast is a common breakfast. But this version of eggs and toast is uncommonly good. It'll take you about 30 seconds to arrange it in the morning! The evening beforehand, you'll toast a whole-grain bread slice and wrap it in foil so it's ready to go. You'll also make a simple yet lovely egg salad with a dollop of mayonnaise, a scallion and a pinch of sea salt and black pepper and then chill it overnight. In the morning, just top the toast with a handful of fresh baby arugula and the egg salad. The combination of high-quality protein and dietary fiber should keep you satisfied all the way to lunchtime!
CALORIES: 309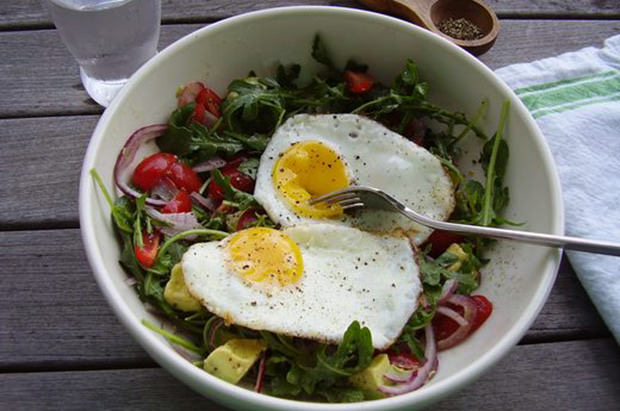 9. Make-Ahead Vegetarian Breakfast Salad With Eggs
Want to get more veggies in your diet? Have them at every meal -- and that includes breakfast! You don't have to stuff vegetables into an omelet or gulp them down as a giant glass of juice. Simply have a salad. Even simpler, make the salad in the evening so it's ready to go in the morning. That's what you'll do here by whisking together in a serving bowl a little lemon juice and extra-virgin olive oil to make lemon vinaigrette. Then you'll add avocado, grapes tomatoes, onion and baby arugula, cover and chill. All that's left to do in the morning is toss the salad and top with eggs. Enjoy along with whole-grain toast if you need some carbs.
CALORIES: 511
What Do YOU Think?
Do you think it's better to get a few minutes of extra sleep and then skip breakfast or vice versa? Why or why not? Do you enjoy preparing overnight breakfasts? If so, what's your favorite overnight fix? Please leave a comment below.
Some Other Things You May Like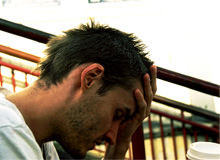 How Long Before Bedtime Should I Have My Last Coffee?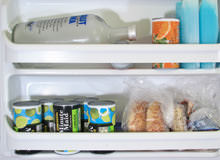 38 Things You Can Freeze To Save Time And Money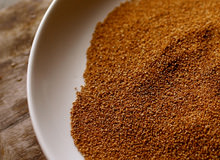 Move Over Quinoa, Teff's The New Grain In Town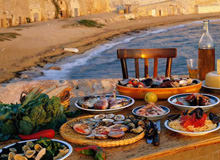 Benefits of the Mediterranean Diet