Best Places to Run in the World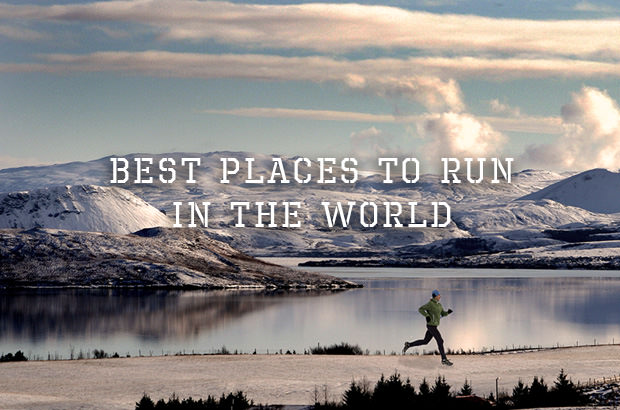 When you're plodding along on the treadmill, do you find yourself daydreaming of the sun-soaked beaches of California? Or does your mind drift to the rolling hills of the Tuscan countryside? If you've caught the travel bug, you're not alone. So to help cure your thirst for roaming the globe with sneakers in tow, runners from around the globe have put together their top 26 places to run in the world. Satiate your search for the ultimate runner's high while simultaneously satisfying your desire to travel and lace up those running shoes. Then tell us: What's your favorite place to run?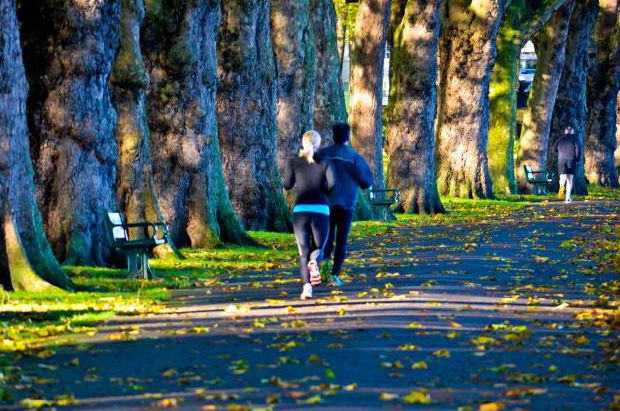 1. Hyde Park, London, U.K.
"Hyde Park is not only home to Kate Middleton, it's also home to miles and miles of gorgeous, groomed running trails. Made for long-distance runners and sprinters alike, this idyllic location offers a five-mile flat loop around the park, or you can choose an out-and-back run for less mileage. If you're in the mood for a speedy day, try some sprints on the dozens of grassy fields. To quench your thirst for touring, you'll run past Kensington Palace, home to Kate Middleton and Prince William. You'll also tour the famed Hyde Park concert area, where bands such as U2 and The Rolling Stones perform on summer nights in London. On a sunny day in London, this is the absolute best place to be. With people riding horses on parallel horse trails, families walking, friends picnicking and people boating on the inner lakes, this is the perfect picturesque running trail for your travels."
-- Collette Stohler, blogger at Roamaroo
Follow Collette's running and travel adventures on Roamaroo.com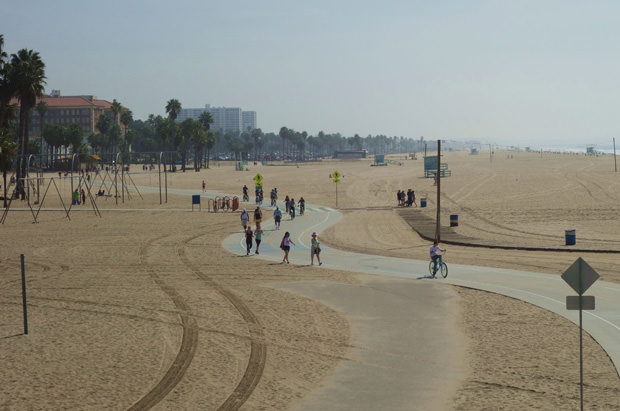 2. Ocean Park Boulevard in Santa Monica, California
"The Santa Monica/Venice/Marina De Rey boardwalk is one of my favorite runs because of its oceanside view. The path is easy and flat, and I can run on the sand as an option or do calisthenics and capoeira on the grass areas. Start with an easy-to-accomplish run so you want to do it again -- 20 to 30 minutes to start and build your way up to 30 to 45 minutes. You can do it for time or distance, around three miles. To add a competitive element, try to complete a distance in a certain amount of time. For example, three miles in 30 minutes would be a moderate 10-minute/mile jog, or three miles in 24 minutes would be a faster eight-minute/mile fast jog. You'll definitely find a lot of tourists and foreigners, but also a good mix of locals walking their dogs, trainers with their clients and sports teams. People are doing everything from rollerblading and biking to skateboarding and surfing! If you want a more quiet, peaceful run, this isn't the spot."
--Brett Hoebel, personal trainer and fitness expert
Learn more about Brett's passion for running and fitness on his website.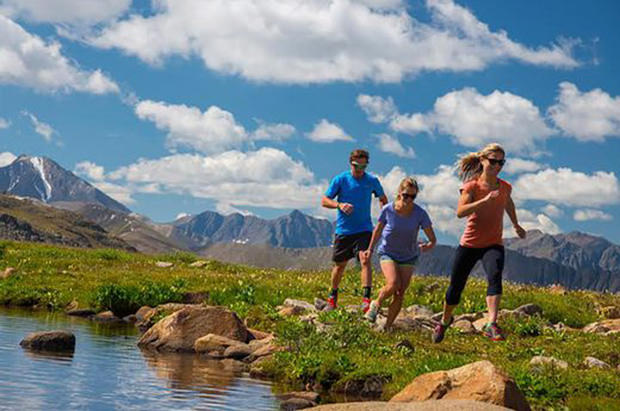 3. Lost Man Loop, close to Independence Pass and Aspen, Colorado
"An 8.8-mile trail for trail running or hiking located almost at the top of Independence Pass and the Continental Divide. It can be accessed by two trailheads: The Lost Man Campground or Independence Lake Trailhead. You can either do the 8.8 miles one way or an out-and-back 5.5-mile loop from Independence Lake Trailhead. The Independence Pass is beautiful in itself, and adding in two high-alpine lakes make this an idyllic trail run or hike. Independence Pass is only open to traffic from Memorial Day till late October, depending on snow, so this trail is best in the summer when it's more likely to be dry. Bring a pack with water and snacks, especially if you're not used to altitude -- you'll wind up at over 12,000 feet elevation!"
--Jessica Jacobi, marketing manager for Aspen Skiing Company
Follow Jessica's running and travel adventures on Twitter.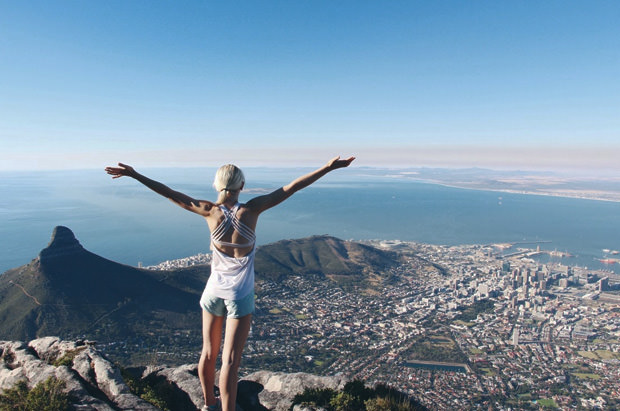 4. Table Mountain, Cape Town, South Africa
"This is between a run and a hike, but it's so absolutely worth the effort. Peaking at about 3,500 feet, Table Mountain rises straight up above Cape Town to give you one of the most incredible views imaginable. To make the hike/run, you're looking at about a two-kilometer jog from the parking lot to the beginning of the trail. The first half of the trail (about three kilometers to the summit) is completely runnable. While the incline is steady, the path is well worn and rather stable. The second half of the run/hike is where things get a bit more tricky. With about three to four kilometers in the bag by the time you reach the second half of the trail, the incline dramatically increases and the terrain becomes a lot more difficult for running. A fast and controlled hike can get you up the remaining kilometer to the peak of Table Mountain, where the views are as epic as they can possibly be. In fact, you'll probably be so captivated by the views along the way that you can't help but take a picture or two as you're running. The best time of year to make the run is from February through June (the summer and fall in South Africa), and I personally suggest doing this first thing in the morning as the sun isn't quite at full strength. The bonus part? If you're too tired when you get to the top don't worry, there's cable car back down to the bottom."
-- Ben Aronson, blogger at The 30ish
Follow Ben's running and travel adventures on The30ish.com.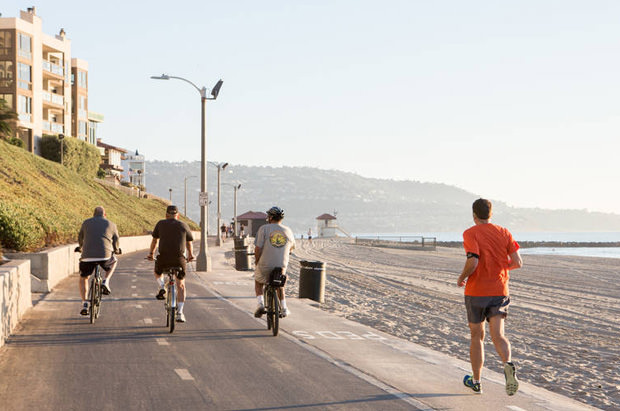 5. Manhattan Beach, California
"Manhattan Beach is a charming coastal California city south of Los Angeles known as the beach volleyball capital of the world. But it's also home to The Strand, a pedestrian (and bike) path that runs right along the picturesque Pacific Ocean. Start in northern Manhattan Beach at Rosecrans Avenue and run the 3.5 miles down to the Redondo Beach Pier. On your run, you'll pass throngs of sun-soaked Californians playing volleyball and enjoy the multimillion-dollar beachfront houses lining The Strand. If you want to extend your run, keep going past Redondo Beach and onto the Palos Verdes Peninsula. To make this run harder, add some sand running to the mix."
-- Collette Stohler, blogger at Roamaroo
Follow Collette's running and travel adventures on Instagram.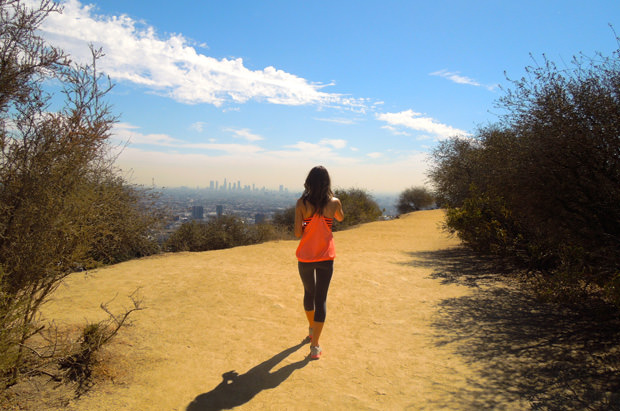 6. Runyon Park, Los Angeles
"Runyon Canyon is one of the most iconic Hollywood hikes and a must-do when in the L.A. area. Most trails are a 2.5- to three-mile loop, with varying degrees of intensity. There are also some grassy park areas where local trainers teach free boot camp and yoga classes. Dogs are welcome as long as they are on the leash. Runyon is a hot spot for celeb sightings, model-packed run clubs, photo shoots and epic views of the city and Hollywood sign. Because it is a tourist attraction, it can get really crowded. Shoot for early mornings -- before 9 a.m. -- or late afternoons to get the best street parking. And bring water because it get can hot and dusty at the top."
-- Shay Kastobi, personal trainer
Follow Shay's running adventures on Instagram.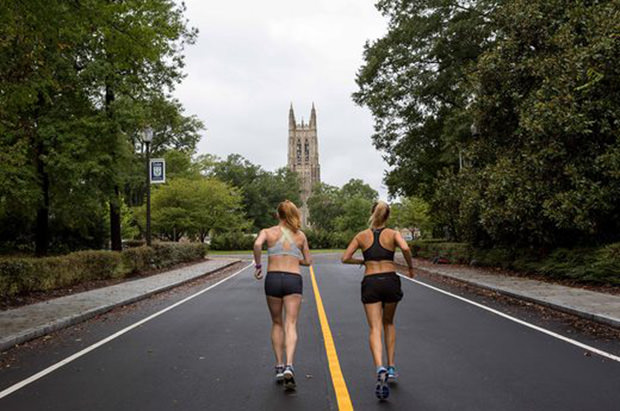 7. Duke University, Durham, North Carolina
"Durham is home to Duke University, with a campus that boasts beautiful gothic-style architecture and miles of peaceful, pristine running trails, gardens and preserved forestland. This makes it the perfect place for a run with a best friend to catch up and connect after an intense day of classes at the Fuqua School of Business. You can do a four-mile loop around West Campus, which will take you past the breathtaking gothic architecture of the Duke Chapel, Duke's most iconic landmark. Nestled nearby is the Sarah P. Duke Gardens, which includes five miles of dirt trails through 55 acres of spectacular botanical gardens and a koi pond. You can frequently find students, locals and tourists studying, relaxing and enjoying the serenity and natural beauty of the gardens. If you want to add on more miles or do faster run, you can jump on the Al Beuhler Trail, a three-mile crushed-stone trail with rolling hills around Duke University's golf course."
-- Caitlin Bullock and Katie Read, bloggers at See Red Run
Follow Caitlin and Katie's running adventures on See Red Run.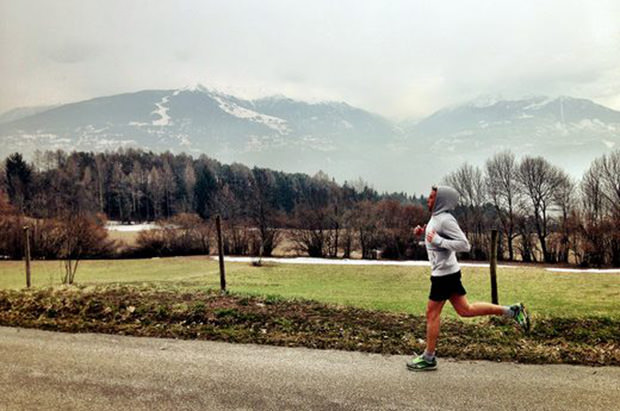 8. Saviese, Switzerland
"This retreat in the Swiss Alps is the perfect location for disconnection from the world. Not only do you struggle to have data access, but it's simply surrounded by silence. There's a great route leading from the village into woodlands where you can run for miles along a natural ridge along the mountain. It's a tricky trail that's more suited to cross-country runners than those looking to beat their personal bests as you need to hop, skip and jump over entangled tree roots on the ground. Nonetheless, it makes for one of the most scenic runs I've ever done. The air is as clean as can be, but you'll notice the altitude, which could leave you a little shorter on breath if you're not used to it. Wooded houses, hiking trails and deserted churches await you in the forest."
-- Ben Walker, owner of Zoom PR
Follow Ben's travel adventures on Instagram.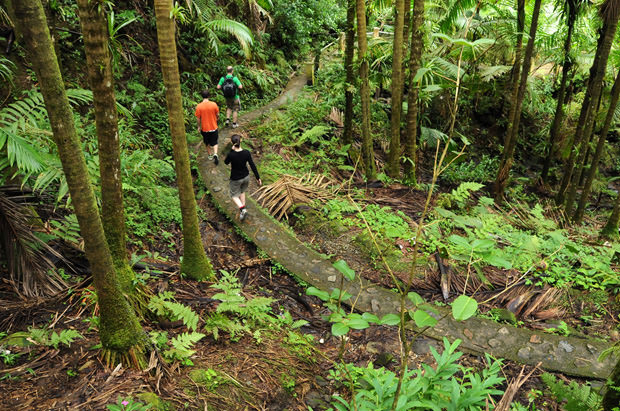 9. El Yunque National Rainforest, Puerto Rico
"While San Juan is a beautiful city to tour, travel and run in, I found myself gravitating towards the natural pieces of Puerto Rico's land while on holiday in this country. El Yunque National Rainforest is about an hour outside of the main city and offers plenty of shade via beautiful vegetation and a canopy of trees. I did a steady 10-mile run through the rainforest here and found waterfalls, hill training and views from the top that took my breath away. It's also a good place to wear your water-resistant socks and prep for wet shoes, as you are sprinkled with mist and rain, which makes for a refreshing run the whole time you're out there. It's a good place to bring along a friend or spouse, and much of the trail is on concrete, so training is pretty optimal since it is not off-roading in most of the locations on the map."
-- Kate Cummins, Psy.D., licensed clinical psychologist
Learn more about Kate on her website.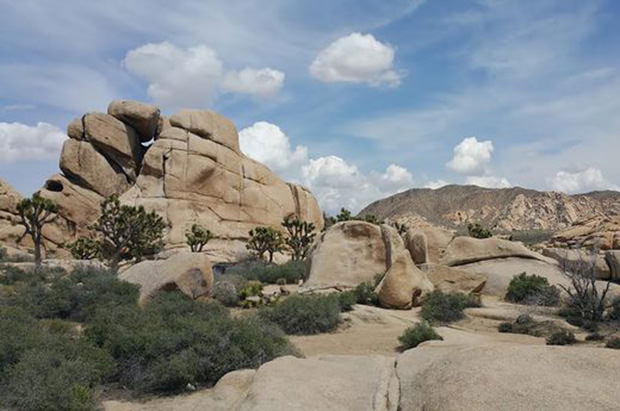 10. Joshua Tree, California
"Joshua Tree National Park is located in the Southern California Desert and encompasses nearly 800,000 acres of the Mojave and Colorado Deserts. There is an extensive network of trails of varying length and difficulty. From short nature trails to long, strenuous hikes, there is something for everyone here. Joshua Tree is a beautiful and serene place to camp and an excellent challenge for rock climbers as well. Come prepared because temperatures can dramatically drop at night and the midday can be scorching, especially in peak summer months. If camping isn't your thing, Palm Springs is a short drive away. The best times to go are early to midmorning and late afternoon to sunset. The name Joshua Tree came from a group of Mormon settlers who crossed the Mojave Desert in the mid-19th century. The tree's unique shape reminded them of a Biblical story in which Joshua reaches his hands up to the sky in prayer. The Joshua Tree does have a remarkable spiritual and emotional quality to it. This is probably one of my most favorite places in California."
-- Shay Kostabi, personal trainer
Follow Shay's running adventures on Instagram.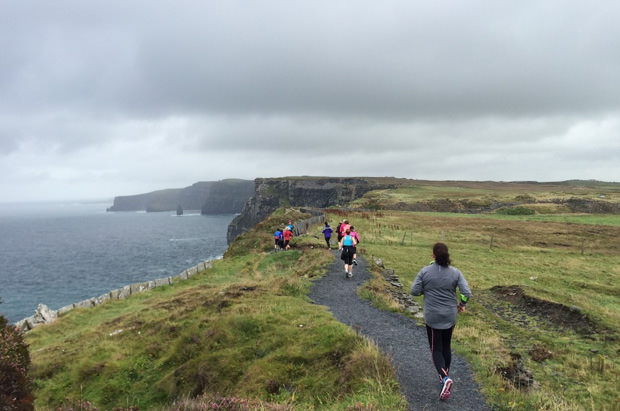 11. Cliffs of Moher, Ireland
"I have never run across a place so beautiful and majestic, literally and figuratively, than when I ran the trails of the Cliffs of Moher in Western Ireland. Set high above the powerful Atlantic Ocean, this run is set 214 meters above sea level, making for a breathtaking view. Choose the coastal path around the sea and run from the visitor center to Hags Head for a five-kilometer run or to Doolin for an eight-kilometer run. The lush green cliffs coupled with the bright-blue Atlantic make for a perfectly picturesque run. You will pass by the Aran Islands and gorgeous Galway Bay. Just be aware that weather conditions can change drastically at the cliffs, so come prepared with a raincoat. We recommend doing this run early in the morning when there are no crowds of tourists."
-- Scott and Collette Stohler, bloggers at Roamaroo
Follow Scott and Collette's running and travel adventures on Roamaroo.com.
12. The Arabian Desert, Abu Dhabi, UAE
"This may not seem exciting, but to me it was amazing. As part of a Jeep tour through the Arabian Desert, there are afternoon activities (sand boarding, camel riding, etc.), but instead of participating in the tourist activities, I preferred to just go for a short run. So I kicked off my shoes, threw on my headphones and took off on a brief three-mile run through the desert. The afternoon views of the sun off the sand are absolutely amazing, and the work you put in on your calves and feet running in that soft sand is no easy work either. The ideal time to make this run is in the winter, when it's at least not scalding hot, and the afternoon with the sun setting behind you makes it totally picturesque. But one thing: Make sure your guides know where you're going so that you don't get lost and need Aladdin to come save you."
-- Ben Aronson, blogger at The 30ish
Follow Ben's running and travel adventures on The30ish.com.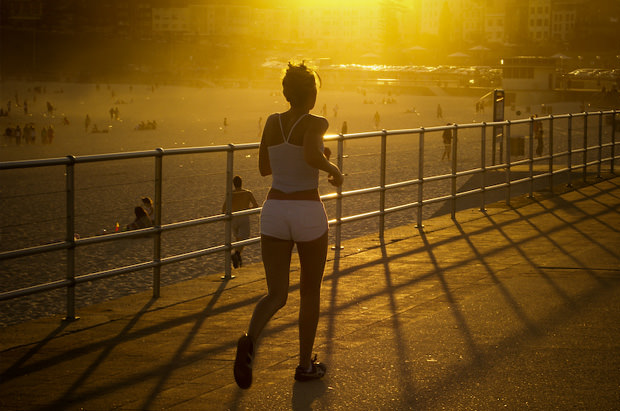 13. Bondi Beach, Sydney, Australia
"While on holiday, I appreciate being on foot in my running clothes most in a large city, where sites are plenty and culture is rich. The best part about running through big, metropolitan places is that you get to feel like you are a part of the place, that you've put your footprints on the land and you navigate with ease through the tourist spots. Bondi Beach in Sydney, Australia, is a surfer's paradise, runner's heaven and perusing person's leisure activity. I did a nice 15-mile run on the coast here, starting at the beach, where street art murals line the walls with an eclectic group of artists' works. The run goes along the coast for miles, trucking through wooden paths, cement walkways and stone steps created straight from the earth. There are many others on this trail, but it also becomes your own the farther away from the beach you get. It's a perfect mix of social sites and soul-southing, running therapy."
-- Kate Cummins, Psy.D., licensed clinical psychologist
Learn more about Kate on her website.
14. Mumbai, India
"India has been one of the most interesting places I've laced up and headed out on the streets. The 4.3-kilometer Marine Drive seawall in Mumbai was such a cool experience. I was an impossibly sore thumb sticking out amongst the locals in my shorts and pale skin. I was stopped by people taking in the sunrise view who were curious as to how and why I came into the situation of running along the coast of the Arabian Sea. It seems as though running isn't a popular tourist activity in India. A little boy asked his father if he could race me, a group of women wearing intricately woven and ornate silk tops with grey sweatpants shouted, "Hello, Western girl!" and then threw their arms in the air cheering for me. I'd recommend early-morning runs at any time of the year in Mumbai. The heat and humidity is relentless, and you should only drink bottled water to rehydrate. While many people cautioned me about running attire in a more conservative country, the liberal cities like Mumbai and New Delhi are open to all types of outfits, and you certainly won't be alone in donning shorts and a sleeveless tank."
-- Melissa Wolfe, indoor cycling instructor
Follow Melissa's running and travel adventures on Instagram.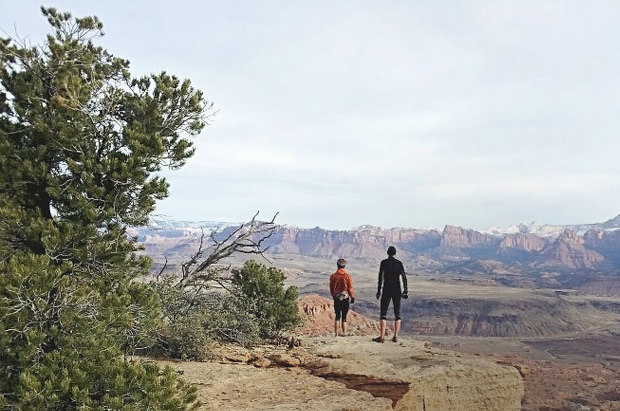 15. The Grand Circle Trail, Grand Canyon
"If you are looking for a challenging but scenic trail run, this is it. This is an 11.6-mile loop that starts at the Red Rock Canyon Visitor Center and roughly parallels the Scenic Loop Road. It is beautiful, and the terrain is very varied. Some parts are rocky (almost a scramble); other parts are hard-packed dirt, and there is a small section of loose sand too. I would strongly recommended picking up a map from the visitor's center -- and paying close attention to it -- as the path is not clearly marked. It is best to avoid the hot summer months, and no matter what time of year it is, bring an excess of water and some electrolytes."
-- Emma Black, world traveler and runner
Follow Emma's running and travel adventures on Instagram.
16. The Charles River, Boston, Massachusetts
"Running along the river is amazing very early in the morning just before sunrise in the summertime when it's cool or just after sunrise in the autumn when the air is cool and crisp. You can be assured that you're not alone, Boston is a very active city, and every time I'm there, I see many people out running, no matter what time of the day it is. You can expect to see plenty of wildlife activity along this river -- from squirrels to egrets to falcons to geese to turtles to gophers to opossums -- on this four-mile loop. It's a beautiful, fresh and inspiring run."
-- Sarah Kusch, holistic health coach and fitness expert
Follow Sarah's running adventures on Instagram.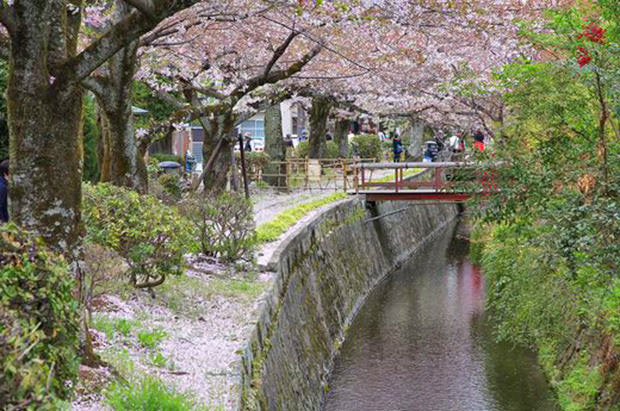 17. Kyoto, Japan
A long, paved path runs alongside the Kamogawa River, where the out-and-back distance is a little over 13.5 miles. A schoolteacher stopped me when I had just begun my run and asked if I could run some races with her students and teach them some exercises. She said that she was trying to teach the importance of physical health to her students, warning me that they were very shy and really didn't like to exercise. With some hard encouragement, some kids started running back and forth with me, and eventually the whole class was pushing for their turn to race each other and me. They ended up doing jumping jacks, lunges and planks with me, all lead by gesturing, demonstrating and a lot of laughs. I would definitely recommend carrying your own water while running in Japan, as the routes are mostly removed from high-traffic vendor areas, and I didn't come across any water fountains on any of my runs there. Most routes I've run there are flat or with very little elevation gain or drop. I've been told that the spring is the most beautiful time to run in Japan with the cherry blossoms in bloom, but my river routes were perfectly beautiful with mild temperatures and plenty of shade in early Autumn."
-- Melissa Wolfe, indoor cycling instructor
Follow Melissa's running and travel adventures on Instagram.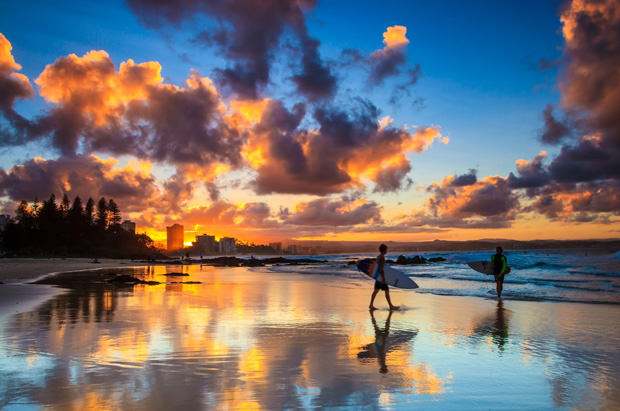 18. Snapper Rocks, Gold Coast, Australia
"Every year I head to Coolangatta to watch the Quiksilver Pro [surfing competition]. The beach is my life, and I love the feel of this image -- so much warmth and love. I run along the beach on the sand, and there are footpaths that follow the beach, again with outdoor gym equipment. I love running by the beach, taking in the sea-salty air and watching the waves crash on the sand. Depending where I'm running along the Gold Coast, I normally run for five to 10 kilometers here." -- Fiona Peters, lifestyle photographer
Follow Fiona's running and travel adventures on Instagram.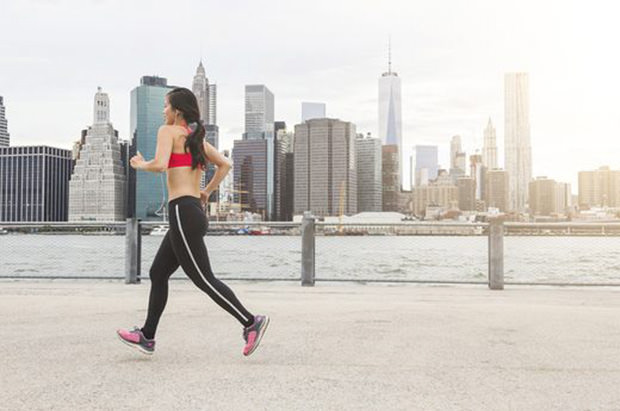 19. New York, New York
"In a city of more than 8 million people, running is an equalizer, a community glue stick and a refuge in the whirlwind of sensory overload and overstructured schedules in which city life engulfs us. Anyone can be a runner here. CEOs, executives, struggling artists with Broadway dreams, stay-at-home moms, competitive athletes with all of the latest gadgets and gear and those who just want to stay well and keep it simple -- a pair of running shoes, shorts and a tee. For training/leisure runs, the West Side Highway and Central Park are probably the two most beloved areas. My go-to long run is taking the subway up to 181st Street just above the George Washington Bridge and running a straight shot down to Battery Park. It's just under 11.5 miles and gives such a refreshing perspective of New York. You pass by green parks, industrial areas, residential neighborhoods and business districts on one side while the other side hosts an unblemished, fully visible sky over the Hudson River. For hill workouts, Harlem Hills on the north side of Central Park can be repeated on a 1.43-mile loop from the 102nd Street Transverse to 110th Street. I find running it clockwise to be most challenging. I recommend spring and autumn as the best times of the year to run in New York City."
-- Melissa Wolfe, indoor cycling instructor
Follow Melissa's running and travel adventures on Instagram.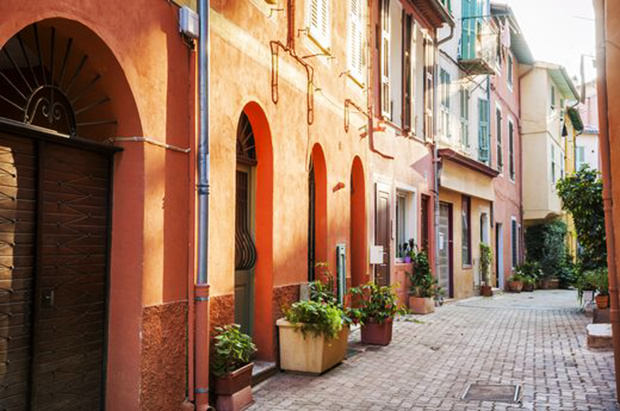 20. Villefranche-sur-Mer, France
"It's best to run here in the fall or spring, but I actually prefer the summertime, when 30 seconds into my run, I'm dripping sweat from the humidity. From the main road above you can look down across the red-tile roofs of the old town, with the distinctive church and bell tower in the center. Like the medieval villages of the backcountry, the narrow cobblestone and bricked streets slope steeply down (in this case toward the sea) or traverse along the slope, with vaulted passages beneath the houses. There's quite a medieval feeling here. As you wiggle your way down the slopes on the narrow, winding streets through houses, tiny restaurants and shops, you will eventually open up to the bright and airy seafront. This is hands down one of my most inspiring runs to date."
-- Sarah Kusch, holistic health coach and fitness expert
Follow Sarah's running adventures on Twitter.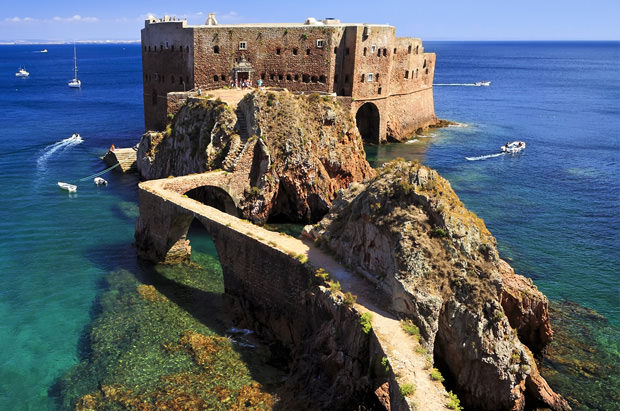 21. Peniche, Portugal
"I'll never stop traveling. Portugal is my favorite country in Europe that I've visited the past two years. The coastline is gorgeous and perfect for running and exploring new scenery. I stay in the small, coastal surf town Peniche and run along the beach cliffs, exploring the coastline. They have great running pavement following the beach with an outdoor gym along the path. The path even has obstacles -- it's great! The run is normally about seven to eight kilometers, taking in the ocean scape the whole way."
-- Fiona Peters, lifestyle photographer
Follow Fiona's running and travel adventures on Instagram.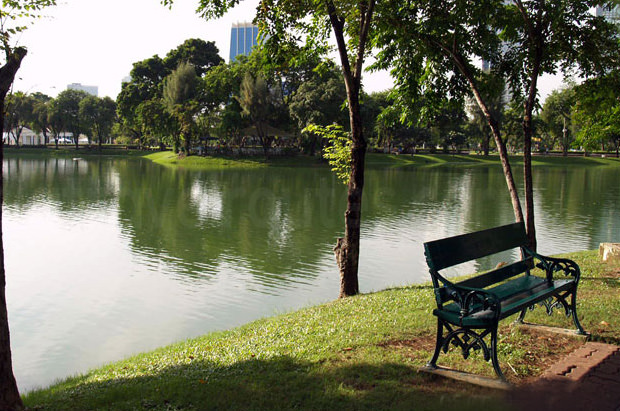 22. Bangkok, Thailand
"Lumpini Park in the center of Bangkok is a great place to either chill out or pound the pavement to escape the hustle and bustle of the city. Regular fun-run events are held here, and recently I took part in a color run to raise money for Operation Smile Thailand. Be careful on your run not to disrupt any resident Komodo dragons! Lumpini Park offers a feeling of calm in a green environment, so running here feels like you are breathing in the oxygen directly from the trees around you. The color run was a lot of fun, and since an international school in the city organized it, there was an array of nationalities taking part. I love working out in Lumpini Park when I'm in Bangkok. You feel like you're in another world as the sounds of motorbikes and car horns fade in the distance. You're nicely shaded by trees, and -- if you're lucky -- you might cop a spray by the sprinklers, which will offer some relief. Lumpini Park track is approximately 2.5 kilometers, but there are many pathways to make a longer run interesting. Most runners will do laps to get their required distance."
-- Sarah O'Farrell, blogger at Fit Travels
Follow Sarah's running and travel adventures on FitTravels.com.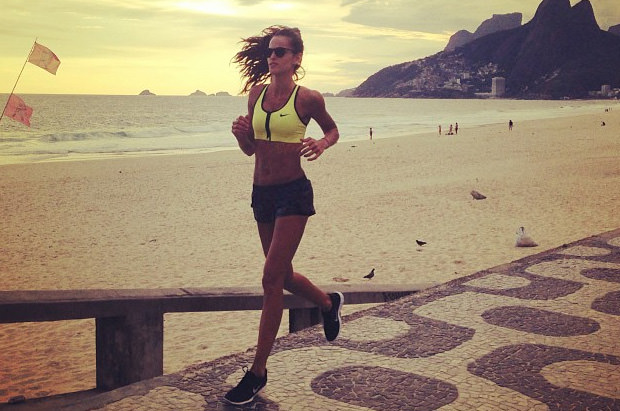 23. Rio de Janeiro, Brazil
"Channel your inner 'Girl From Ipanema' by heading to Rio to run on its beautiful beaches. Rio de Janeiro is known for its hot beaches and even hotter booties, thus making it one of the top places to run in the entire world. Take a jog on the path that runs parallel to the Atlantic Ocean. With a scenic assortment of sand and sun, jog past locals playing soccer and footvolley (a mixture of soccer and volleyball) on the beach. Start in Leblon Beach and go to the end of Ipanema Beach for a 2.5-mile run. If you want to make it longer, continue past Ipanema and onward to Copacabana Beach. With the Dos Irmaos (Two Brothers) Mountains in the background and the alluring Atlantic at your side, nothing gets more beautiful than this Brazilian run."
-- Collette Stohler, blogger at Roamaroo
Follow Collette's running and travel adventures on Roamaroo.com.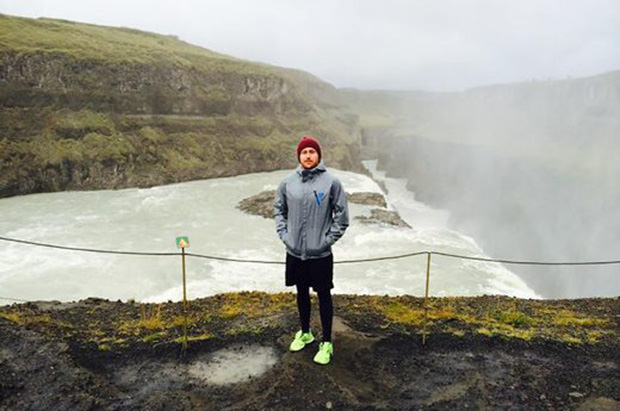 24. Olfusa River, Reykjavik, Iceland
"One of the most epic experiences of my life was a recent trip to Iceland. Green and plush, Iceland is, for the most part, anything but icy, and the climate is rather mild for the summer half of the year, which makes it perfect for running. About one to 1.5 hours outside of the capital city of Reykjavik is an amazing waterfall called Gulfoss Falls. If you drive up that way, you can stop at the Olfusa River and run alongside it for as long as you please until you reach the falls. Once you're at the falls, your run doesn't have to stop, as you can continue down another three-quarters of a mile to the bottom of the falls. Along the route you'll see the most amazing views of the mountains and glaciers in the distance and plush hills and interesting wildlife along the river. And, if I remember correctly, there are even a few natural geysers along the way as well. The ideal time to go is anytime from May to September, and the distance is whatever you make of it."
-- Ben Aronson, blogger at The 30ish
Follow Ben's running and travel adventures on The30ish.com.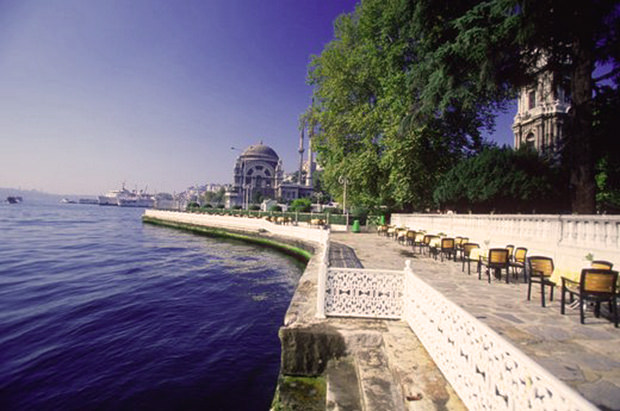 25. Istanbul, Turkey
"If you need a good hill workout with inspiring views, Istanbul is a winner of city -- bridges galore! The city is divided between two continents, Asia and Europe, and each October the Bosporus Bridge opens to pedestrian traffic for the marathon route. Other times of the year, a run over the Galata Bridge will catapult you into a skyline of mosques coming from either direction, with plenty of attractions to make mental notes of to revisit along the way. A run through the charming neighborhood of Beyoglu and down the main avenue of bustling, cobbled Istiklal Cadessi through Galata and across the bridge packed with fisherman will take you down along the coastline and around the back of famous sights like Topkapi and Sultan Ahmet (anywhere from 10 to 15 kilometers, depending on the extension of your start and end). There are clear and dedicated paths for pedestrians along the vast coastline of Istanbul, and the locals are very friendly, happy and patient to take the time to explain via charades how to get to where you need to be. They may even teach you to count the number of city blocks in Turkish and offer you some tea with Turkish delight or a fresh fish sandwich along the way!"
-- Melissa Wolfe, indoor cycling instructor
Follow Melissa's running and travel adventures on Twitter.
26. The Los Angeles River, Los Angeles, California
"Start at Victory Boulevard and Riverside Drive and go to Egret Park in Elysian Valley. This 7.4-mile section is known as the Elysian Valley Bicycle and Pedestrian Path. It runs through Glendale, Griffith Park, Los Feliz, Atwater Village and Elysian Valley. It's a nice way to experience the softer side of downtown Los Angeles. You will still run into the urban grit and reality of downtown while exploring paths that will expose you to some of the wildlife we do get in the city, but this is a safe path. It is definitely best any time other than summer, when that heat can become unbearable."
-- Sarah Kusch, holistic health coach and fitness expert
Some Other Things You May Like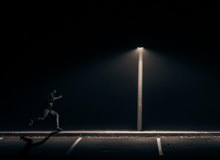 Safety Tips For Running At Night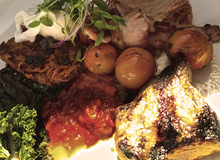 Is The Paleo Diet Suitable For Runners?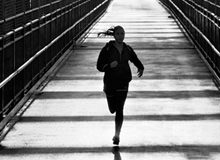 Proven Methods To Motivate You To Run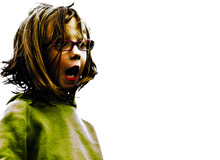 5 Reasons Why Weight Loss Products Keep You Fat