Did Bernie Sanders Really Run A 4:37 Mile?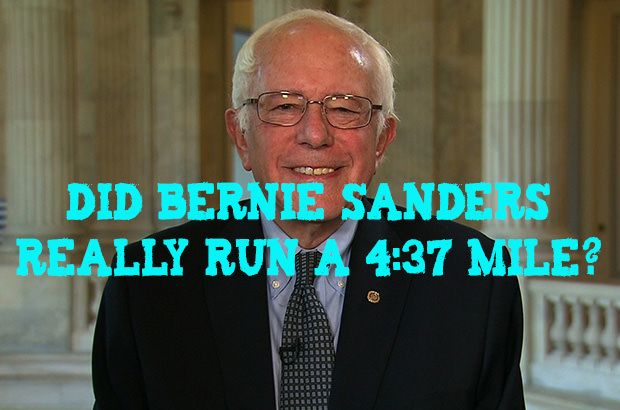 In his bid for the presidency, Bernie Sanders' impressive athletic abilities from the past have surfaced, spurred in part by his release of his medical records, but more so from the subject being raised during a Democratic town hall event in Des Moines, Iowa.
When asked about it, this was his reply.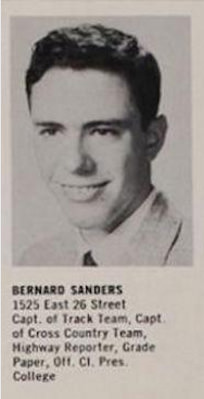 "I was a very good athlete. I was a pretty good basketball player. My elementary school in Brooklyn won the borough championship -- hardly worth mentioning, but we did. And, yes, I did take third place in the New York City indoor one-mile race. I was a very good long-distance runner -- not a great runner, but I was captain of my cross-country team, won a lot of cross-country meets and certainly won a lot of races."
Bernie Sanders started running in his freshman year at James Madison High School in New York, and was described in his year book as a "standout," finishing first in the Flatbush championships (the local area competition within Brooklyn). The next year, he was named co-captain and finished first in Flatbush. He also took third in the city in the indoor one-mile. As a sophomore at James Madison High School, Sanders was racing with seniors — and winning.
The team was successful, too, coming in sixth place in the city during his senior year and second in the borough and earning the yearbook praise of being "one of the best teams in Madison's history.
Sanders Claims He Ran A 4:37 Mile
In a video interview with Jamie Harrison, chairman of the South Carolina Democratic Party, Bernie speaks fondly of his time as a runner in New York City and claims that he ran 4:37 for the mile back in High School. Could he really have clocked such an impressive time? We decided to not take his word for it and did some digging of our own.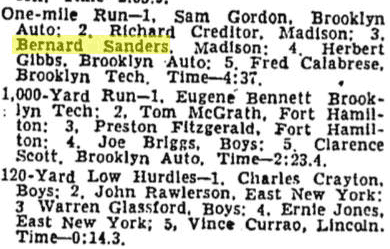 According to a report in The New York Times, Sanders finished third in mile at the Brooklyn Public Schools Athletic League Track & Field Championships on May 21, 1957.
Unfortunately, only the winning time of 4:37 was printed in the newspaper. Because he finished third, there was no knowing what his actual time was. If it was a neck to neck finish, 4:37 may have been possible. But we would never know.
One thing that we should however make note of is that, back in the day, they raced on old cinder tracks with track spikes. So for a race that length, a 4:37 would have been more like a 4:30 on a modern track.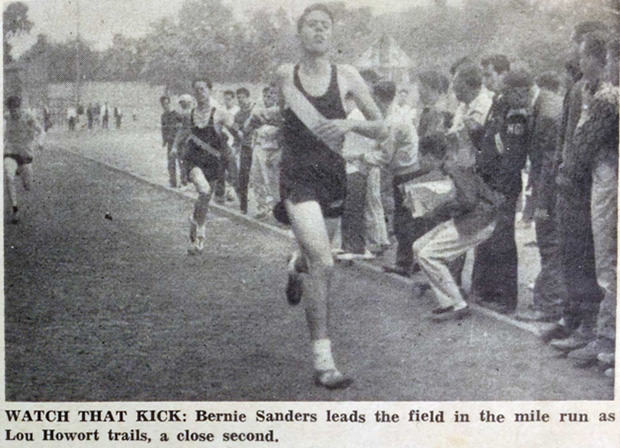 What His Teammates Have To Say About Him
Lou Howort, who is in the picture above and who ran the distance medley with Sanders, had this to say about him.
"Bernie was a very well-known runner from his freshman year. He was probably the top runner in the city for ninth graders… an elite runner at that point. I think he underestimates himself when he says he was just a good runner. Was he a great runner? Maybe not. But he was a very good runner. He was better than just 'good'."
Bernie, The Runner With A Heart
Steve Slavin, who ran track with Sanders, shared a story which he thought accurately represented the character of Bernie Sanders.
Back in the day, when two runners of the same school had a comfortable lead in a competition, they would join hands and almost always cross the finish line together. But Sanders broke with tradition.
"Bernie had already won a few races, and this other guy had never won a race in his life," Slavin explained. "So the two of them were finishing together, and Bernie just pushed him ahead and let him finish first."
You may not agree with his rhetoric and his policies, but the testimonials about Bernie Sanders' athletic past reveals one truth; that the man has not only the heart of a runner, but is a runner with a heart.
Some Other Things You May Like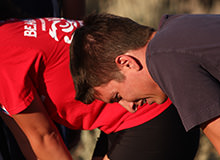 Breathing Tips For Running That Could Change Your Life
The Best Carbs For Runners
The Marathon According To Robin Williams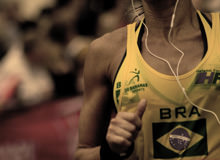 Does listening to music while running improve or reduce performance?