The Best Advice For Taking Your Dog On A Run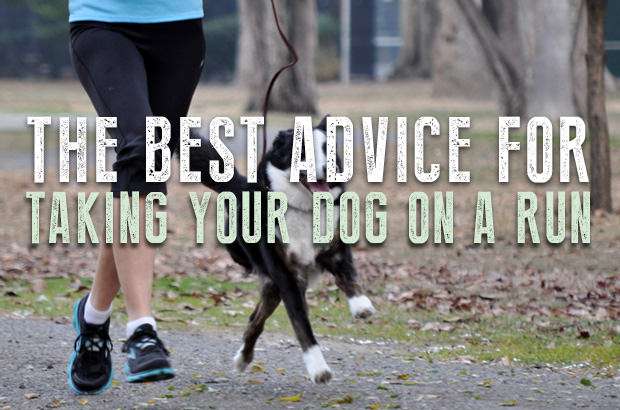 Man's (and woman's) best friend can also make an excellent running partner! Exercising with a buddy solidifies commitment and can improve aerobic exercise performance, according to a 2012 study from the Annals of Behavioral Medicine. So why not take that furry friend that joyously greets you at the door every day and gives you unconditional devotion and support?
With your pup as your running buddy, you can forget about trying to shirk training: Just seeing his wagging tail will be all the motivation you'll need to lace up your running shoes. But before the two of you hit the trails, take a moment to consider how to prepare and stay safe.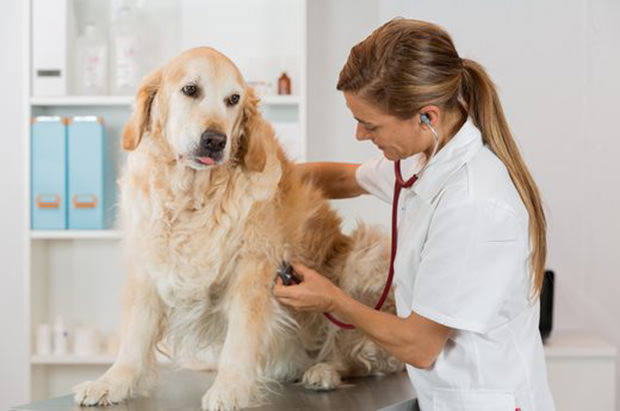 1. Chat With Your Vet First
Before you set out on a run with your dog, schedule an appointment with your vet to make sure Spot is up to the challenge. If your dog is entering his senior years, you'll want to make sure he can comfortably -- and safely -- go on runs. Older dogs will require a little more time for rest and recovery. And at the other extreme, make sure your pup isn't too young. Dogs should reach skeletal maturity before engaging in strenuous activity. Because various breeds reach skeletal maturity at different times, the vet may want to take X-rays to confirm that growth plates have closed before giving your dog the go-ahead.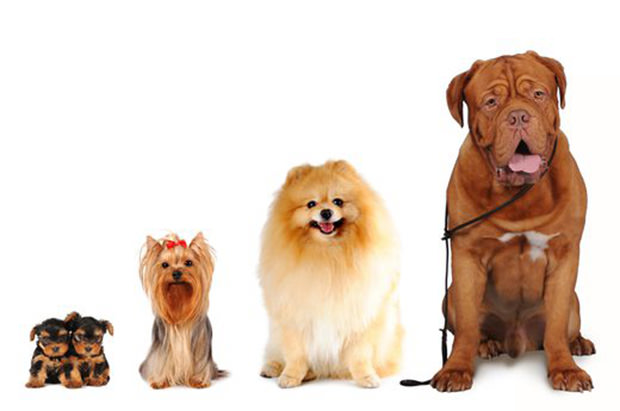 2. Check Your Dog's Breed
Is your dog bred to be a runner? Some breeds -- like herding, sporting and terrier breeds -- tend to have a great deal of strength and endurance, while others -- like toy breeds or the short-legged corgi -- might have trouble keeping up. And take into account potential health issues. Larger breeds can be prone to hip dysplasia and arthritis. Small dogs can have trick knees, and dogs with longer backs can develop back problems. Flat-faced breeds -- including bulldogs, pugs and Pekingese -- just don't have the lung capacity for running.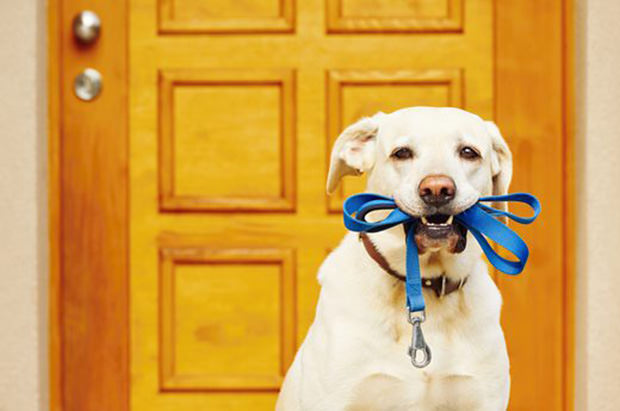 3. Leash Up
"I strongly advise against off-leash running," says veterinarian Rachel Barrack. "Even the most well-trained dog can become distracted and get into a dangerous situation." Make sure your dog is leash-trained and obeys basic verbal commands before going on a run together
"Any type of basic leash that won't slip off is likely fine for running," Barrack says. "Though I don't recommend retractable leashes for a run, as they may afford too much distance between you and your dog." And a harness is better than a collar (as long as it's not a no-pull harness), which can injure a dog's throat or neck if he pulls.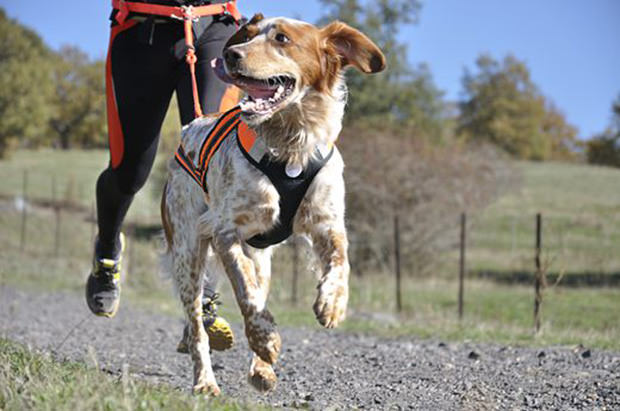 4. Invest in Some New Gear
While you can certainly run without any fancy equipment, sometimes a few essentials can make the run more enjoyable. Always carry water for both of you -- and a collapsible dish for your dog -- to keep hydrated. A waist pouch can hold poop bags, your keys and phone and a first aid kit so you'll be prepared in the event of injury. If you run at dusk or nighttime, reflective or LED gear for you both can help others see you. Not only will these products help your dog be seen by cars, but the flashing light is known to be a coyote deterrent.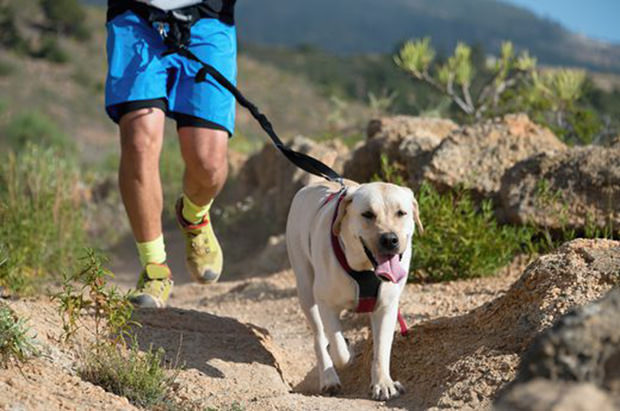 5. Be a Fair-Weather Friend Only
Before heading out, check the weather. Don't bring your dog with you if conditions are too cold, hot or humid. Your pup is closer to the pavement, which, if hot, could cause him to overheat or burn his paws. Some dogs can even get sunburned. Most human sunscreens, however, are not safe for dogs. Instead, if your pooch is a light color, hairless (or nearly so) or has a chronic skin condition, consider getting him a UV-blocking shirt or suit made for dogs.
T Alford, outreach manager for Companion Animals, runs with his dog in Houston and says that, for most of the year, he tries to run in the morning or late in the evening when temperatures are cooler.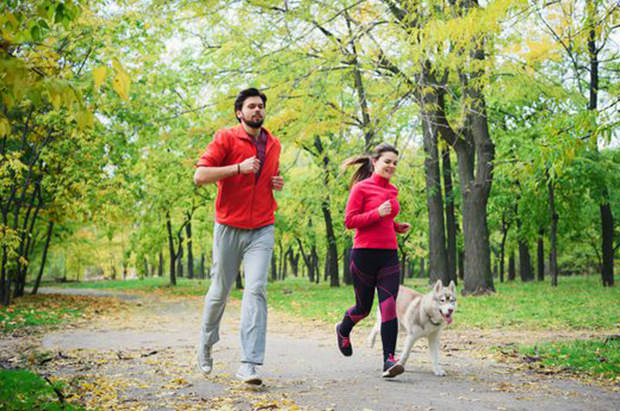 6. Choose the Best Running Surface
"The best places to run with your dog are grassy areas, such as parks or fields. The grass is friendlier on their paws, as well as cooler in temperature. Or pick a quiet neighborhood with safe sidewalks and minimal distractions, though you'll need to be more mindful of hot or rough pavement. Also keep pests and predators in mind. Make sure your pet has been tested for heartworm and is on preventative medication, says veterinarian Jeffrey Levy. And if you go off-road, use a topical flea and tick repellent. Also be aware of snakes: If they're common in your area, look into training programs that teach your dog to avoid them.
7. Short, Slow and Steady
If your dog is new to running, start with short runs, says Jackie Palmer, endurance athlete at Milestone Sports. "Start with a one-mile warm-up run that loops back to your house, where you can drop off your dog, then go back out and finish your run." Gradually increase the loop each week until your dog can join you for the entire run.
However, those first runs together might be a bit cumbersome. While your dog may understand you're running, he may not appreciate that this is for exercise and to keep each other company. Careful handling of your dog's leash can ensure he stays at your side and reduce any urge to run off.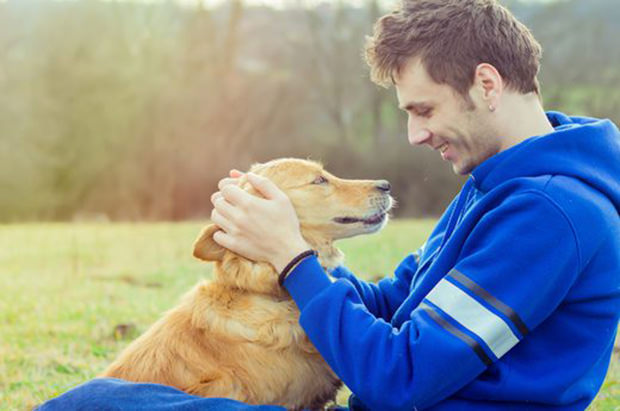 8. Give Your Pooch Some TLC
If your dog seems reluctant to continue or wants to take a break, don't force him to carry on. Make sure he's allowed frequent water breaks and time to cool off. Keep an eye on your dog's gums to make sure they're pink and moist. Dehydration is a common injury in dogs that is often overlooked. If you're running in areas with heavy brush or burrs, talk to your groomer about the best way to take care of his coat. And fuel up for the increased activity. Feeding him a food formulated for active or performance dogs is best.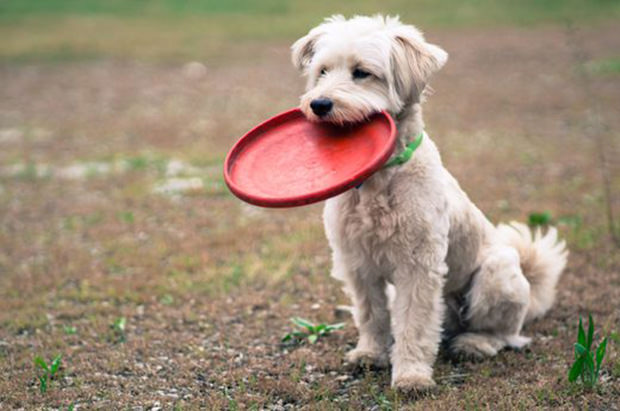 9. Make It Fun
Running with your dog should be fun! It's always good to make stops along the route to allow your dog to sniff and have a drink. Or bring some treats to reward him with. Perhaps try running to a dog park and letting your pup play with the other dogs there for a while. Or take a tennis ball with you and have your dog play fetch in the middle of the run. You and your pooch might also find it fun to occasionally stop the run and do sprints together, similar to a game of chase.
What Do YOU Think?
Do you run with your dog? Or do you know people who run with their dogs? Do you think running with your dog is a benefit and motivator? Or do you feel it's more of a hindrance and distraction? If you regularly run with your dog, what advice might you offer someone who is thinking about trying it? Share your thoughts and experiences in the comments below!
Some Other Things You May Like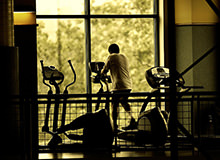 Why Going To The Gym Can Be Unhealthy For You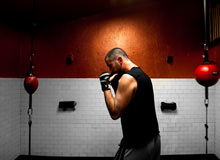 Nail Every Fitness Goal You Set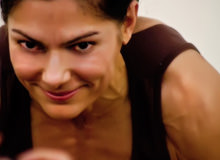 How To Work Out Less And Still Look Younger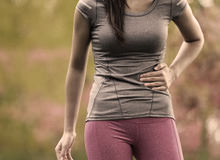 Preventing Side Stitches